InnMind has compiled insights from established Venture Capital firms on the current conditions of the growing Web3 revolution. With a projected market valuation rise of 45.20% between 2020-2030, the Web3 space has attracted much interest from investors and innovative startup entrepreneurs.
The key factors driving this growth include the evolution of digital technologies, the transfer of data ownership to internet users, and the growing concerns about data security. The continued adoption of cryptocurrencies, NFTs, blockchain, metaverses, and 5G/6G technologies, amongst others, all play a significant role in the penetration of Web3 into the global digital space.
To understand the fundamental changes, projected trends, and investment sentiments in Web3 space over the next couple of years, InnMind surveyed 97 Venture Capital Firms investing in Web3 and crypto startups. The survey highlighted such aspects as the protocols and verticals with the most potential, current sources of Web3 deal flow, length of investment decision-making, the preferred size of investments, and others.
Unlike the majority of traditional VCs, when it comes to analyzing a preferred round size for investing in early-stage crypto startups, 86.7% of VCs surveyed typically invest in rounds below $500,000 (which also refers to early-stage deals). In a few cases, the rounds between $500,000 - $1m and $3m - $5m are considered.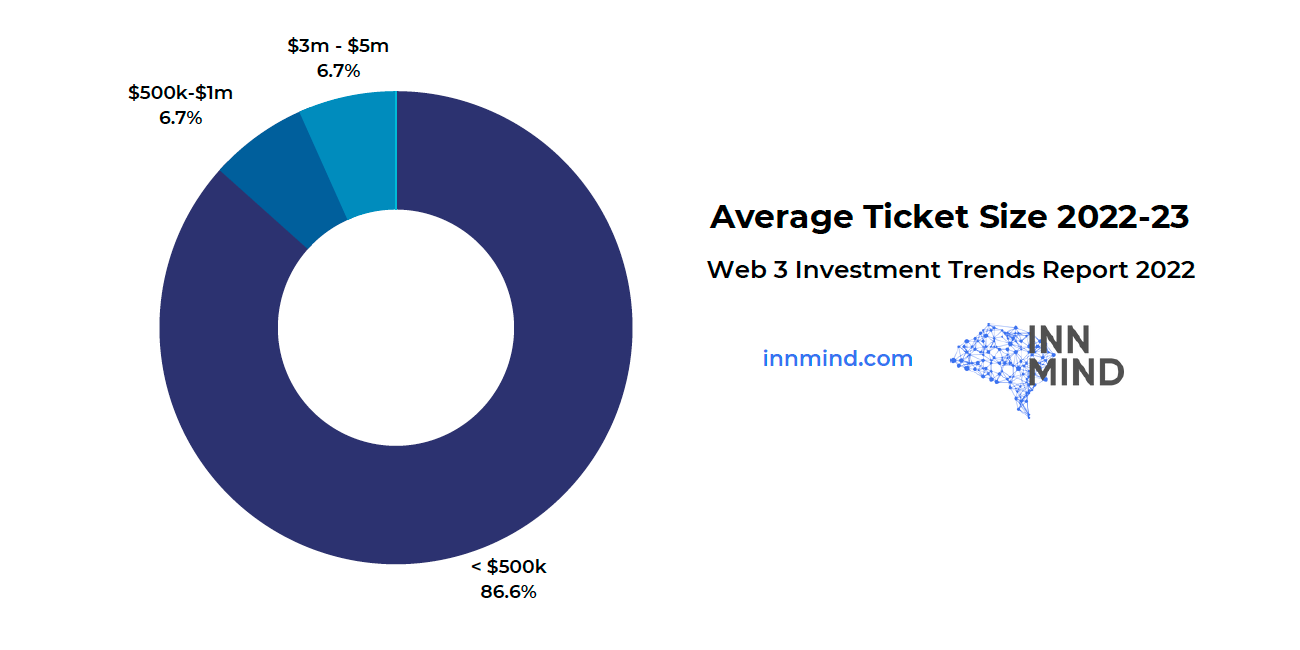 Observing the main sources VCs use to find new potential startups to invest in, the majority of investors rely heavily on social media (Telegram and Twitter) as well as personal networks, other VCs' referrals, and private investment chats on Telegram as the main sources of new deal flow. They proactively scout for new promising startups on the web and share deal flow, which is completely different from the traditional VC approach.
To access more details on these and other insights regarding VC Decision-making tactics, Web 3 market trends and future potential technologies investors have an appetite for, leave your contact details below and you'll access a full report for FREE.
Sections include:
Introduction to Web 3
What Verticals and Protocols are in the top interest of VC investors?
What fundamental changes do VCs expect in the Web3 market in 2022- 23?
Where do crypto VCs find new promising startups to invest in?
Details about Deal Closure (Average Deal Closing Time, most important data about a startup for VC decision-making, Average Ticket Size and other)
Featured VCs contributing to the report:
Magnus Capital
Maff Ventures
Shugo Ventures
Highwind Capital
Waterdrip Capital
web3 Studios
Maxx Capital Ventures
Atesis Capital
Autonomy Capital
Chainfir Capital
Cointelligence Fund
Legion Ventures
Sign in to get the full text!