As we wrap up the second quarter of 2023, we at InnMind are thrilled to highlight the stellar achievements of our latest cohort in the InnMind Accelerate program.
InnMind Accelerate is a specially curated 3-month online sprint program. This immersive experience is meticulously designed for early-stage Web 3.0, Crypto, and Blockchain startups aiming to make a significant impact globally. With a focus on preparing these cutting-edge tech companies for funding and scaling on a global level, our program offers a unique blend of intensive training, personalized mentorship, and robust partnership & fundraising opportunities.
From April to June 2023, we had the privilege of facilitating the growth of five selected startups. These startups, each with its unique vision and innovative solutions, have showcased resilience, ingenuity, and an undying spirit of innovation throughout their time in our program.
Introduction to the bright stars of the Q2 2023 cohort:
Binaryx Platform (USA)
Embarking on a groundbreaking mission, Binaryx is redefining real estate investing with a tokenization marketplace. This ingenious approach allows retail investors to tap into the real estate market while unlocking liquidity and ensuring full regulatory compliance. Key milestones achieved include:
Tokenized and sold their first property, valued at $170K, on the 28th of March.
Successfully engaged 21 800+ unique wallets in their product.
Onboarded and passed 1,100 users through KYC for their inaugural sale in just five days.
Saw 199 users purchase Property Tokens.
Tokenizing the second property on the marketplace
2. Brass Synergy (USA)
Brass Synergy is building a decentralized talent ecosystem for vetted Web3 freelancers, professionals, and market participants. A fresh and revolutionary take on the talent industry, Brass Synergy aims to redefine how professionals connect and collaborate. Some of the results achieved so far:
3.5k freelancers in a waiting list
$250K raised from angels
Early MVP in place
Key milestones achieved and program's results shared by co-founders:
3. Qualoo (Thailand)
Qualoo is at the forefront of creating a decentralized network to provide insights into internet quality, aiming to prioritize investment for a better internet. Notably, they have:
Government contracts and produced QoE (Quality of Experience) framework for internet standards and collaboration with the Association of S.E Asian Nations for the ASEAN Digital Masterplan 2025.
4. Mind Streamers (UAE)
Mind Streamers introduces a Metaverse marketplace to create, sell, and buy coaching products in VR, shaping the future of immersive learning and personal development. Some of the results achieved:
Completed 2 prototypes
Created environment for MindStreamers Clubhouse, main market square, campus for open online courses, conference rooms & event spaces
Built a community of 1000+ members within a week at no cost
300+ sign-ups for prototype test launch
Onboarded coaching providers from 3 different continents, Asia, Europe & North America
Key milestones achieved and program's results shared by the founder:
5. Pixpel (Mexico)
Pixpel is constructing an ecosystem to regulate Web3 Gaming from Rug Pulls and Hacks by introducing Insurance, ensuring a safer and secure gaming experience.
Each startup has made significant strides in their respective fields, reflecting the future possibilities that Web 3.0, Crypto, and Blockchain can offer. Their participation in the InnMind Accelerate program has propelled their growth, enabling them to refine their business models, validate their ideas, and gear up for funding and scaling.
Program's structure:
Each participant in the InnMind Accelerate program benefits from a comprehensive and structured plan that combines a mix of group sessions, one-on-one mentoring, and additional calls and sessions tailored to their unique needs. On average, this translates to 2-3 group sessions per week, along with dedicated sessions with assigned mentors for each startup.
These sessions are designed to cover every facet of running a successful startup - from business development, fundraising and growth strategy to technical implementation and marketing. This holistic approach ensures our participants are well-equipped to handle the challenges of building and scaling a Web 3.0, Crypto, and Blockchain startup.
The Q2 2023 cohort had the opportunity to participate in a plethora of high-value sessions. Here are a few highlights:
Pitching Sessions: Our startups showcased their vision and potential to top-tier venture capital firms and investors like Cryptomeria Capital, Stratified Capital, Ascensive Assets, DoraHacks, Outlier Ventures, Magnus Capital, Seedify, 6MV, London Real Ventures, Yellow Rocks, and more. Notably, a dedicated Pitch Session with Mastercard was a significant opportunity for our participants.
Founders' Stories Sessions: Founders from Metis DAO, WELD Money, and Power Ecosystem shared their entrepreneurial journeys, offering our startups first-hand insights and learnings from their experiences.
Q&A Sessions: Top-tier industry experts from Arcanum Ventures, Stratified Capital, Joseph Khan, RLP Lawyers, GSR, Polkastarter, and more engaged with our startups in interactive Q&A sessions, answering their burning questions and sharing invaluable industry wisdom.
Workshops: Focused workshops on various topics, including Sales, Paid Marketing, KOL Management, Public Relations, Community Management, Tokenomics, Pitching & Pitch Decks, Product Launches, and others, provided our startups with the necessary tools and techniques to build and grow their businesses.
MasterMind Sessions: These intensive sessions were designed to facilitate deep thinking, problem-solving, and strategic planning, helping our startups to tackle complex issues and roadblocks in their paths.
And many more! The list goes on, with each session contributing to the learning, growth, and eventual success of our participants.
As we gear up for the next cohort, we look forward to introducing even more diverse, insightful, and impactful sessions to empower our startups and fuel their growth as a post-accelerator strategy.
InnMind Accelerate Q2 in Founders' Own Words: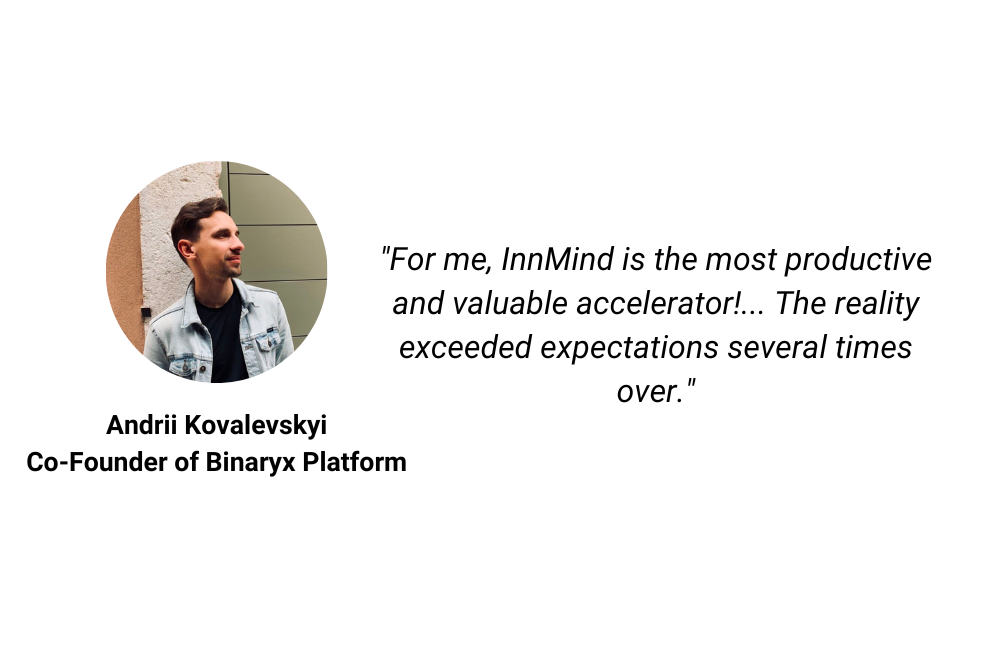 Full Testimonial from the Binaryx Team:
Binaryx Platform passed the April-June 2023 batch. We applied for 30+ web3-focused and government equity-free accelerators at the beginning of the year. We chose Innmind based on feedback from partners and peers in the market. I have been through 3 accelerations with startups in my life, and I can say that most accelerators do not give enough support, even if they have a lot of funds and experts on board. But in the case of Innmind, it was the opposite. The reality exceeded expectations several times over.
The first thing I would like to point out is the professional team. I especially want to mention Kate, Neli, and Abdul - they are people in their field!
The second is the mentors and their lectures. I was impressed a few times by the lecturers' level of experience and expertise. We had the founders of the already big crypto projects with massive liquidity, a lecturer from Google and representatives of experienced crypto companies.
Third are the services, benefits, and pitch sessions. It is clear that the accelerator is trying to give more and more value and builds an ecosystem of interaction between startups, mentors and investors. We got $10K from Amazon Web Services + significant discounts on the services we use.
Separately, I want to highlight the mastermind sessions. I have never seen such a practice; it is one of the most valuable techniques. And we continue to do it even after the end of our acceleration program.
For me, InnMind is the most productive and valuable accelerator! Considering that there aren't many of them in the web3 space - if you are early a stage crypto startup, you should definitely apply here!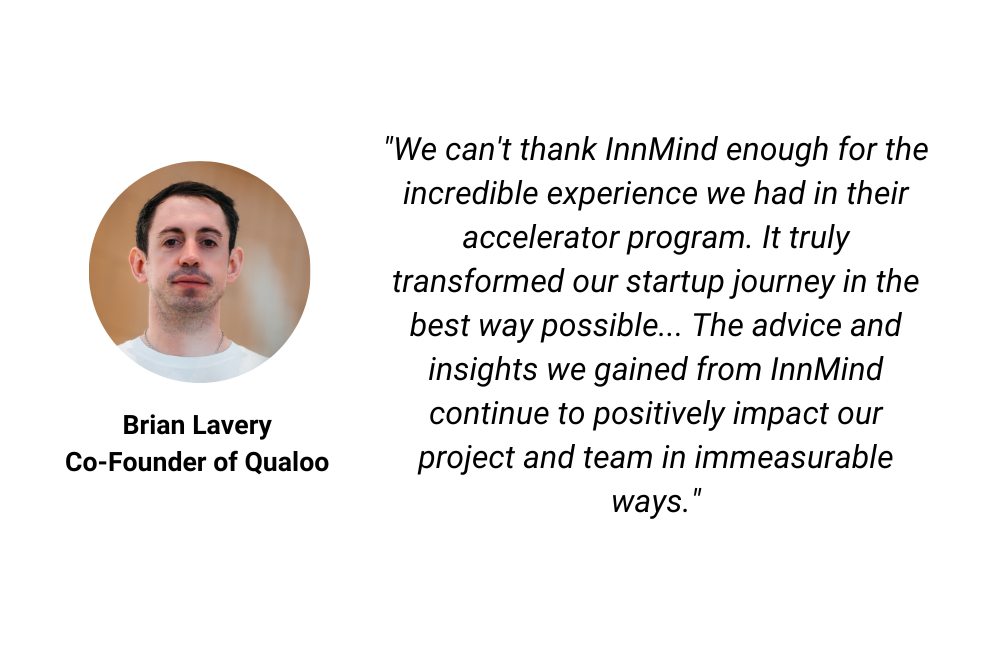 Full Testimonial from the Qualoo Team:
We can't thank InnMind enough for the incredible experience we had in their accelerator program. It truly transformed our startup journey in the best way possible. The support and resources we received were exceptional, and we're thrilled to share the highlights of our time with InnMind.
Firstly, the weekly calls dedicated to refining our tokenomics and fundraising strategies were invaluable. The expert guidance and feedback we received during these sessions propelled us forward and helped us navigate the complexities of the crypto world with confidence. Additionally, the opportunity to learn from industry-leading speakers, such as the former C-level executive at Enjinstarter and the co-founder at Metis, was an eye-opening experience that provided us with invaluable insights and inspiration.
One of the most remarkable aspects of our time in the accelerator was the incredible cohort of fellow entrepreneurs we had the privilege to connect with. The bonds we formed during the program have extended beyond the duration of the accelerator, and we're grateful for the long-lasting relationships we've cultivated with like-minded individuals who share our passion and ambition.
We can't praise the InnMind team enough for their unwavering support and dynamic approach. Even after the accelerator ended, they remained responsive and actively engaged with our progress. We're proud to say that we've grown into a completely different team and startup than we were just three months ago, and the advice and insights we gained from InnMind continue to positively impact our project and team in immeasurable ways. InnMind truly exceeded our expectations, and we're excited to carry the invaluable lessons and connections forward as we embark on our entrepreneurial journey.
The results of the Q2 2023 InnMind Accelerate program have once again reaffirmed our commitment to nurturing new ideas and innovations in the digital world. Witnessing these startups transform their ideas into concrete, actionable plans and, subsequently, successful businesses, is an immense reward for us.
As we celebrate the achievements of our Q2 2023 cohort, we are also brimming with excitement for what's coming next. We are continually improving and expanding our program to ensure that more promising Web 3.0, Crypto, and Blockchain startups get the mentorship, resources, and support they need to make their mark in the global market.
Next Cohort - Fall Q4 2023
We have officially started the onboarding and selection process of the most outstanding startup teams innovating in web3 to join our upcoming cohort from October to December 2023!