Let's have a look at the 10 most active crypto VC firms, with the highest number of investments in crypto and web3 startups in Q1 2023.
👇
The situation in the world economy in 2022 was both very easy and impossible to predict. Political conflicts and the aftermath of the COVID-19 pandemic were superimposed on the expected rise in inflation and the fall of almost all markets (as most qualified analysts had warned). Not surprisingly, we expect 2023 to be a stabilizing year - but even now, we can predict that it will be a challenging but very interesting one.
Despite the general economic instability, FTX bankruptcy, and the protracted crypto winter, Web3 projects were able to attract $4.8 billion more investment in 2022 than the year before. Commercial banks such as Morgan Stanley and Goldman Sachs, international venture capital funds, as well as leading organizations in the field of digital assets — Binance Labs, Coinbase Ventures, Kraken Ventures — invested in this industry.
The first quarter of 2023 indicates that investors have not lost interest in Web3 projects, which is also proved by the recent crypto VC market report with 43% of venture capitalists planning to invest in more web3 and crypto startups in 2023 (compared to 2022). Over $867.55 million in venture capital was invested in Web3 startups in February 2023 alone, according to DeFiLama's data. This opens up promising prospects for startup founders looking for venture capital investment.
In this article, we'll highlight the top 10 web3-focused venture capital firms in 2023 that stood out as investors in crypto and Web3 startups in the first quarter. If you are looking for funding for your crypto startup, this information can help you choose the right VC fund, actively investing in this sector.
Q1 2023 investment activity:
$$ invested in startups: 136.2 million
# of projects funded: 10
Coinbase Ventures, the investment arm of cryptocurrency exchange Coinbase, was created in April 2018 to provide funding to early-stage cryptocurrency and blockchain startups. The company supports hundreds of entrepreneurs working to develop the cryptocurrency/Web3 ecosystem: from Layer 1 protocols to Web3 infrastructure, centralized on-ramps, decentralized finance, NFT, Metaverse technologies, developer tools and more.
During the Q1 of this year, Coinbase Ventures financed 10 projects, namely Alkimiya, Obol Labs, Architect, Alongside, Azra Games, MSafe, Chaos Labs, Avalon Corp, Term Labs and EigenLayer.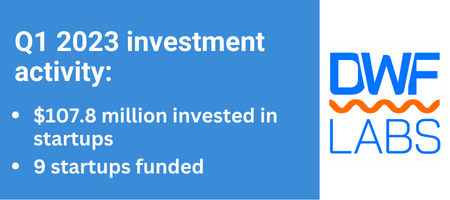 Q1 2023 investment activity:
$$ invested in startups: 107.8 million
# of projects funded: 9
DWF Labs is a venture firm and global market maker of digital assets. It invests in an average of 5 projects every month, regardless of market conditions, and focuses on segments such as GameFi, Metaverse, infrastructure, protocols, trading, and DeFi.
In addition to investments, DWF Labs offers founders a range of services, including consulting, providing liquidity, cybersecurity, smart contract auditing processes, debt financing, treasury management, and relationships with multiple partners in various verticals.
For Q1 2023, DWF Labs funded 9 projects in various stages of development: Mask, YGG, Inverse Finance, Beldex, Conflux, Tonstarter, Radix, So-Col, and Alchemy Pay.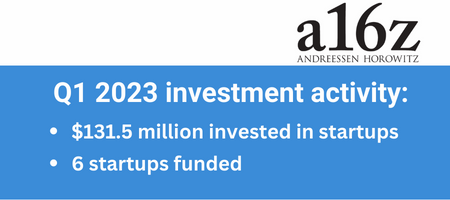 Q1 2023 investment activity:
$$ invested in startups: 131.5 million
# of projects funded: 6
Andreessen Horowitz (a16z) is a well-known venture capital firm based in Silicon Valley, California, that supports ambitious entrepreneurs building the future with the help of technology. It was founded in 2009 and invests in early-stage startups as well as emerging companies. Notable companies that a16z has invested in include Facebook, Twitter, Airbnb, Coinbase, Slack, Instacart and Lyft.
The company has a diverse investment portfolio covering various industries such as healthcare, consumer products, cryptocurrencies, gaming, fintech, education and enterprise IT (including cloud computing, security, and software-as-a-service).
For Q1 2023, a16z funded 6 projects in different stages of development: Voldex, Alongside, Towns, Believer, Capsule, and CCP Games.
Get more for your project development by email. Some tips and insights we keep as "newsletter only". Take a moment to subscribe to our weekly web3 digest. It's where the magic of web3 meets actionable insights, delivered straight to your inbox.
Q1 2023 investment activity:
$$ invested in startups: 53.5 million
# of projects funded: 10
Shima Capital is a San Francisco-based venture capital firm that specializes in investing in early-stage cryptocurrency and blockchain startups. With a reputation as a leading crypto VC firm, it focuses on a practical approach and works with its portfolio companies to offer strong support to maximize return on investment. By helping to attract talent, build community, and accelerate technical research and development, Shima Capital helps startups scale their businesses.
In Q1 2023, Shima Capital provided investment support to 10 projects: MSafe, Quasar, Open Forest Protocol, Quantum Temple, Sleepagotchi, Cedro Finance, OrbLabs, Monad, 3RM and Strider.
Q1 2023 investment activity:
$$ invested in startups: 35.5 million
# of projects funded: 6
The cryptocurrency division of trading firm Jump Trading Group, Jump Crypto, was founded in 2015. The company works to build infrastructure for blockchain and Web3 growth and is focused on investing in decentralized ecosystems based on blockchain solutions. As part of its investment support, Jump Crypto helps startup teams unlock the full value and potential of their projects over the long term.
During Q1 2023 Jump Crypto financed 6 projects at different stages of development: Ulvetanna, MSafe, Port3 Network, VRRB Labs, C3 and Affine.
Q1 2023 investment activity:
$$ invested in startups: 35.5 million
# of projects funded: 9
Big Brain Holdings is a Los Angeles-based venture capital firm that specializes in investing in pre-seed, seed and early-stage crypto firms. Founded in 2021, the company focuses on the crypto industry and invests in world-changing Web3 ideas. Big Brain Holdings is looking for unique and innovative projects that change blockchain technology and have the potential to upend familiar fields. As a venture capital fund, they are investing heavily in building the cryptocurrency future.
During the 1st quarter of this year Big Brain Holdings financed 9 projects, namely Open Forest Protocol, Intella X, Vest Exchange, VRRB Labs, Dymension, 3RM, Tsunami Finance, Helika and Tensor.
Q1 2023 investment activity:
$$ invested in startups: 40.1 million
# of projects funded: 7
Circle Ventures is a venture capital firm headquartered in New York that specializes in technology investments. The company positions itself as a community that aims to support blockchain projects and early-stage companies. The fund invests in projects that can accelerate global crypto-innovation and cryptocurrency adoption. Circle believes that blockchain and digital currencies have the potential to create a fundamentally more open, inclusive and integrated global economy.
Circle Ventures provided investment support to 7 projects in Q1 2023: Alkimiya, MSafe, Architect, TipLink, Huma Finance, Affine and Term Labs.
Q1 2023 investment activity:
$$ invested in startups: 24.3 million
# of projects funded: 5
Polygon Ventures is the venture capital division of the blockchain infrastructure company Polygon, headquartered in Bangalore (India). The company specializes in supporting early-stage Web3 startups, as well as teams developing projects in the Polygon ecosystem and multichain.
The company takes a partnership approach to help founders succeed by providing comprehensive support via Polygon's expertise in operations, technology, distribution, and strategic partnerships.
During Q1 2023, Polygon Ventures funded five crypto projects in various stages of development: SYKY, Neopets, Nefta, Phi and Polytrade.
Q1 2023 investment activity:
$$ invested in startups: 23 million
# of projects funded: 5
Sfermion is a company that invests in projects related to non-fungible tokens (NFTs) and metaverse verticals. The company helps founders and companies that create the infrastructure and environment needed to form the foundations of the digital future.
In Q1 2023, Sfermio provided investment support to 5 projects: Sleepagotchi, Nefta, Unagi, Strider and Helika.
Q1 2023 investment activity:
$$ invested in startups: 75 million
# of projects funded: 6
Dragonfly Capital is a globally known San Francisco-based crypto VC fund. Founded in 2018, the firm deploys venture capital funding in companies developing financial services, blockchain and fintech products that are in seed, series A, and later stages. Dragonfly Capital's portfolio includes leading companies in different segments, including DeFi, CeFi, NFTs, L1s, L2s, and web3 infrastructure. In addition to working with companies in the technology sector, Dragonfly Capital also works with companies in industries such as energy, manufacturing, business services and medical services.
In Q1 2023, Dragonfly Capital invested in 6 projects: Alkimiya, Caldera, Monad, Kaito, OP3N and Econia Labs.
In the world of cryptocurrency and Web3 startups, venture capital firms play a crucial role in providing funding and support. These companies invest heavily in the future of blockchain technology and its potential to transform the global economy.
However, founders must not only be familiar with a venture capitalist's portfolio. Startups must be able to properly present their project in order to attract a venture capital investor. This requires a solid knowledge base and experience in the field. This is where professionals come in — they can help entrepreneurs navigate their way to investment and teach them the secrets of obtaining financing, even in a bear market.
If you are looking for investment and want to get on the radar of venture capital funds, then registering and creating a profile of your startup for free on the InnMind platform is a great solution for you. In addition, our team will help you gain in-depth knowledge on how to expedite a funding round, pitch in front of venture capitalists, and take your business to the next level.
---
Read also: