As the web3 and crypto ecosystems continue to evolve, venture capital (VC) investors have shared their predictions on when the ongoing crypto winter might finally come to a close. According to a recent survey conducted by InnMind, a leading European platform for web3 startups and VCs, venture capitalists anticipate the end of the crypto winter to occur between Q4 2023 and Q1 2024.
An international survey of 147 crypto VC investors from Europe, Asia, the Middle East, and the US was conducted between January and March 2023 by InnMind team. The purpose of this study and accompanying analysis was to collect and analyze investors' sentiments regarding the overall web3 & crypto VC market conditions and understand how their investment focus and decision-making criteria might shift due to recent changes and new trends in the market in 2023-2024.
The survey, which combined data from online questionnaires and in-depth interviews, gathered insights from various VC funds investing in startups from the web3 and crypto verticals. It delved into topics such as the potential shifts in the investment focus during the market recession, web3 startup sourcing platforms, primary factors VCs consider when selecting blockchain startups to invest in, and the methods they employ to find these startups.
Key findings from the VC report include:
Web3 Infrastructure and Crypto Finance (DeFi) top the list of most promising verticals, with 42.9% and 25.0% of VC investors highlighting their potential, respectively.
Ethereum, Polygon (MATIC), and Polkadot are the most favored blockchain protocols, attracting 42.9%, 14.3%, and 7.1% of investors' interest, respectively.
The majority of VCs plan to either invest in more startups this year (📈42.9%) or maintain their current investment pace (35.7%).
Hybrid investments (equity + tokens) are the preferred investment type for 53.6% of VCs, while 39.3% opt for pure token investments.
Over half of the surveyed VCs (53.6%) are open to being the first investor on a startup's cap table.
28.6% of venture capitalists forecast a market recovery by Q4 2023, and an optimistic 14.3% expect the crypto winter to end as early as Q2-3 2023.
We highlight below the most interesting takeaways from the report, and if you want to learn more, you can download the full PDF report here for free.
>>> BTW, love💜 this content? Tweet it! <<<
When will "crypto winter" end?
According to the survey results, highlighted in the report, 28.6% of venture capitalists forecast a market recovery by Q4 2023, and an optimistic 14.3% expect the crypto winter to end as early as Q2-3 2023.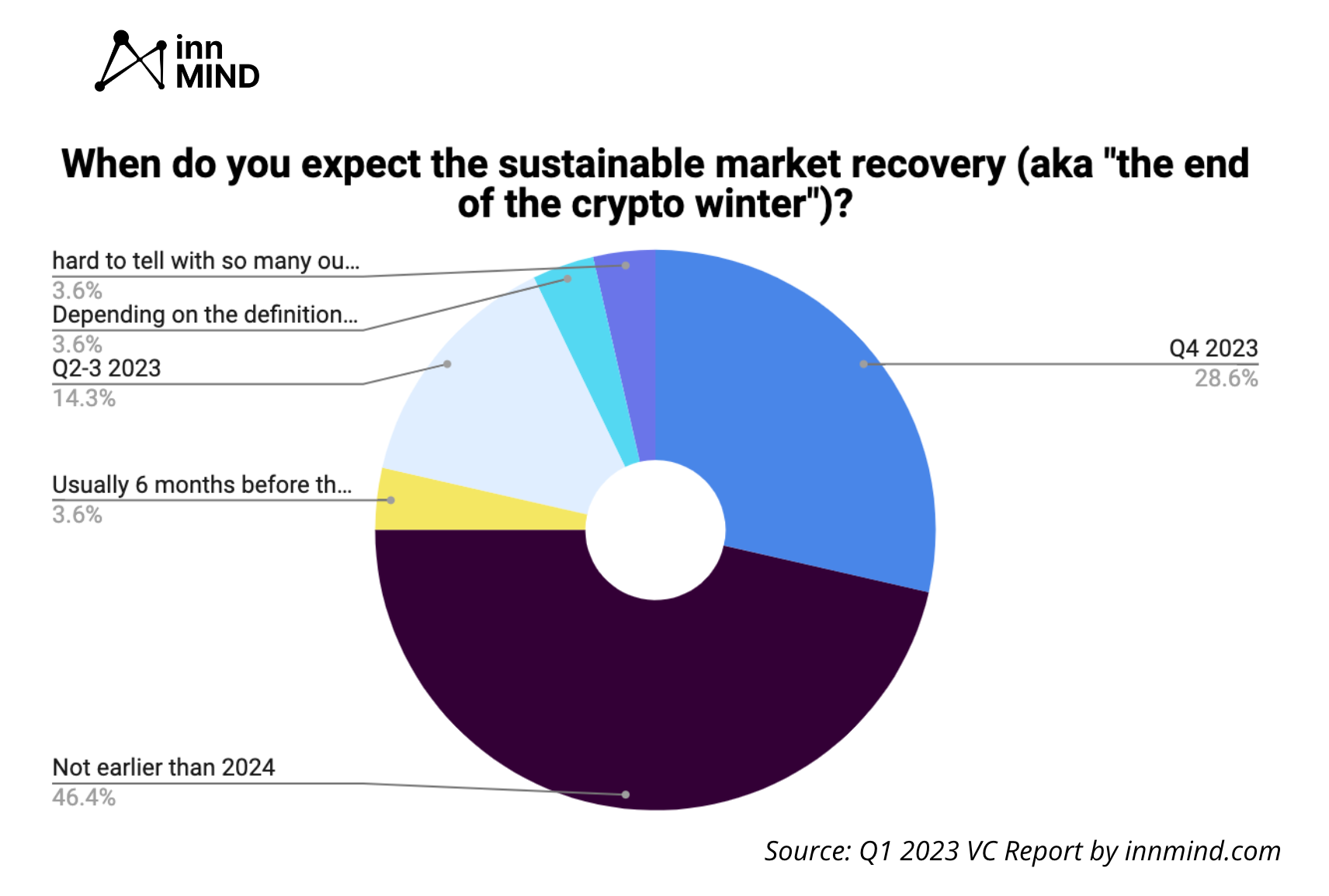 One of the interesting quotes from the report came from Anton Shakur from Hodl Ventures:
"Depending on the definition, our thesis is that ''the bottom'' has happened already, yet the period of ''nothingness'' can last for a while. We expect 2023 to be the year of capital rotation based on the hottest narratives, yet without onboarding new retail to the space. We expect the start of the next full-scale bull market not earlier than 2024".
Regarding the fundamental changes to happen in the web3 market in 2023, venture capitalists expect this industry to evolve towards mass adoption and more mature projects and products. Investors envision a fundamental transformation of startups in web3 and crypto vertical, from hype-driven projects made "by crypto geeks for crypto geeks" to more solid and well-thought projects that prioritize user-friendly experience, consumer-focused products with seamless onboarding, and focused on bringing more web2 users into the web3 space.
Many VC investors also expect to see more "sane" startup valuations in 2023, considering that there was no significant drop in valuations in the previous year. Another interesting prediction for the near future is the further emergence of B2B adoption, with more brands and traditional corporates entering the web3 space in 2023.
Btw, some tips and insights we keep as "newsletter only". We curate a special web3 digest packed with useful tools, market insights, and exclusive opportunities tailored for founders and investors like you.
Top web3 verticals:
The survey revealed that VC investors are keeping a close eye on emerging trends in the web3 space, with web3 infrastructure projects and decentralized finance (DeFi) leading the pack.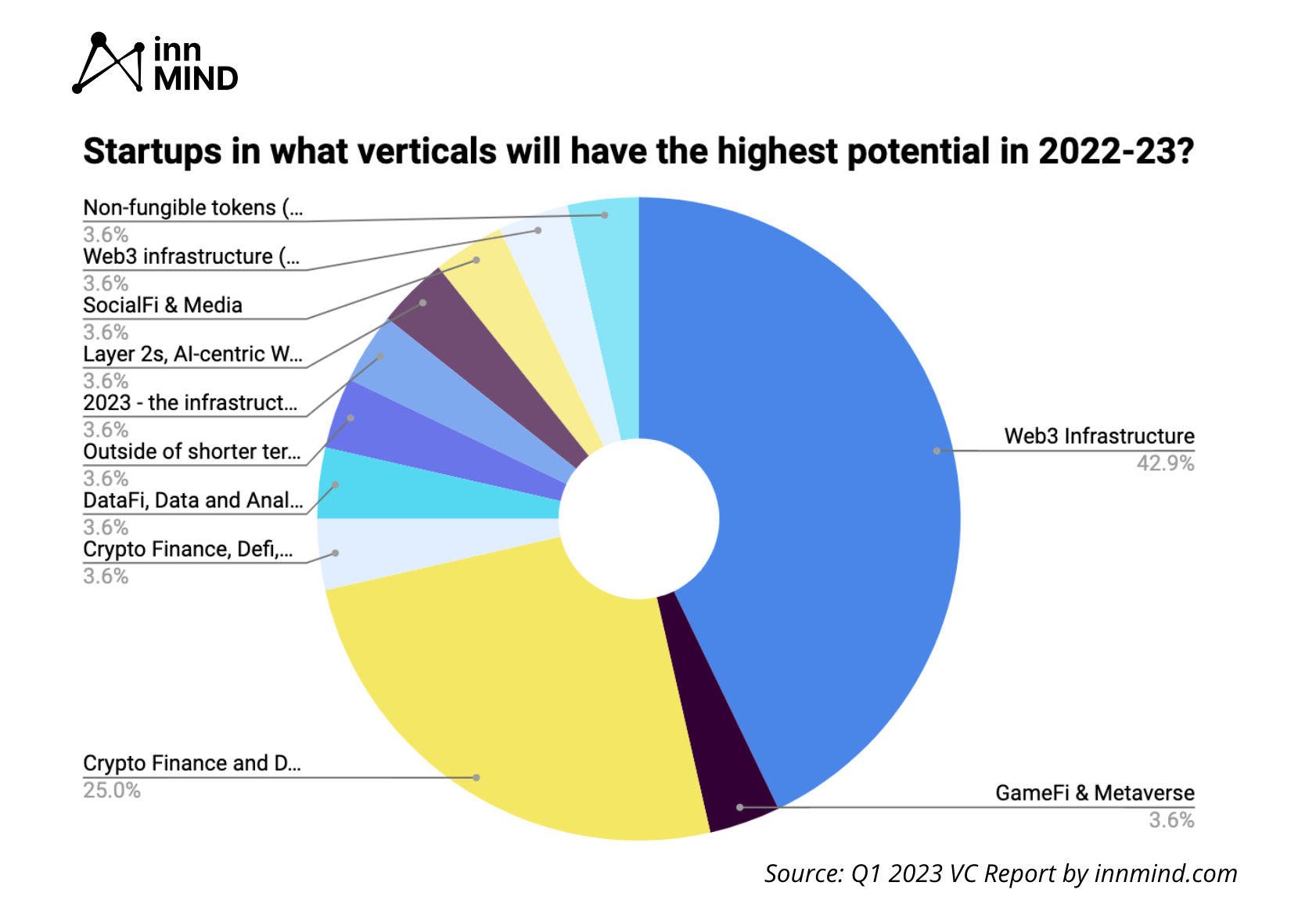 Also, respondents expressed a keen interest in the non-fungible tokens (NFTs), metaverse, and its potential applications in various industries.
Carmelo Giuliano from Arcanum Ventures underlined the potential behind Layer 2s, AI-centric web3, gaming, and interoperability protocols. Meanwhile, in addition to the strong potential of the infrastructure layers, Anton Shakur from Hodl Ventures elaborated on GameFi startups' perspectives:
Gaming has a good chance to be an inflection point to the mass adoption of crypto given a vast addressable market of billions of people and 'digitalization ''being in the DNA'' of the players.
What startups are the crypto VCs investing in?
In short summary, crypto VCs invest in startups with strong teams, exceptional founders' backgrounds, balanced financials, and solid traction.
Answering the question "What kind of data about a startup would you consider of the highest importance when it comes to decision-making?", 50% of the VC respondents emphasized the importance of the team and founders' backgrounds in their investment decisions. Tokenomics, valuation, and user metrics were also cited as significant factors influencing the choice of startups to back.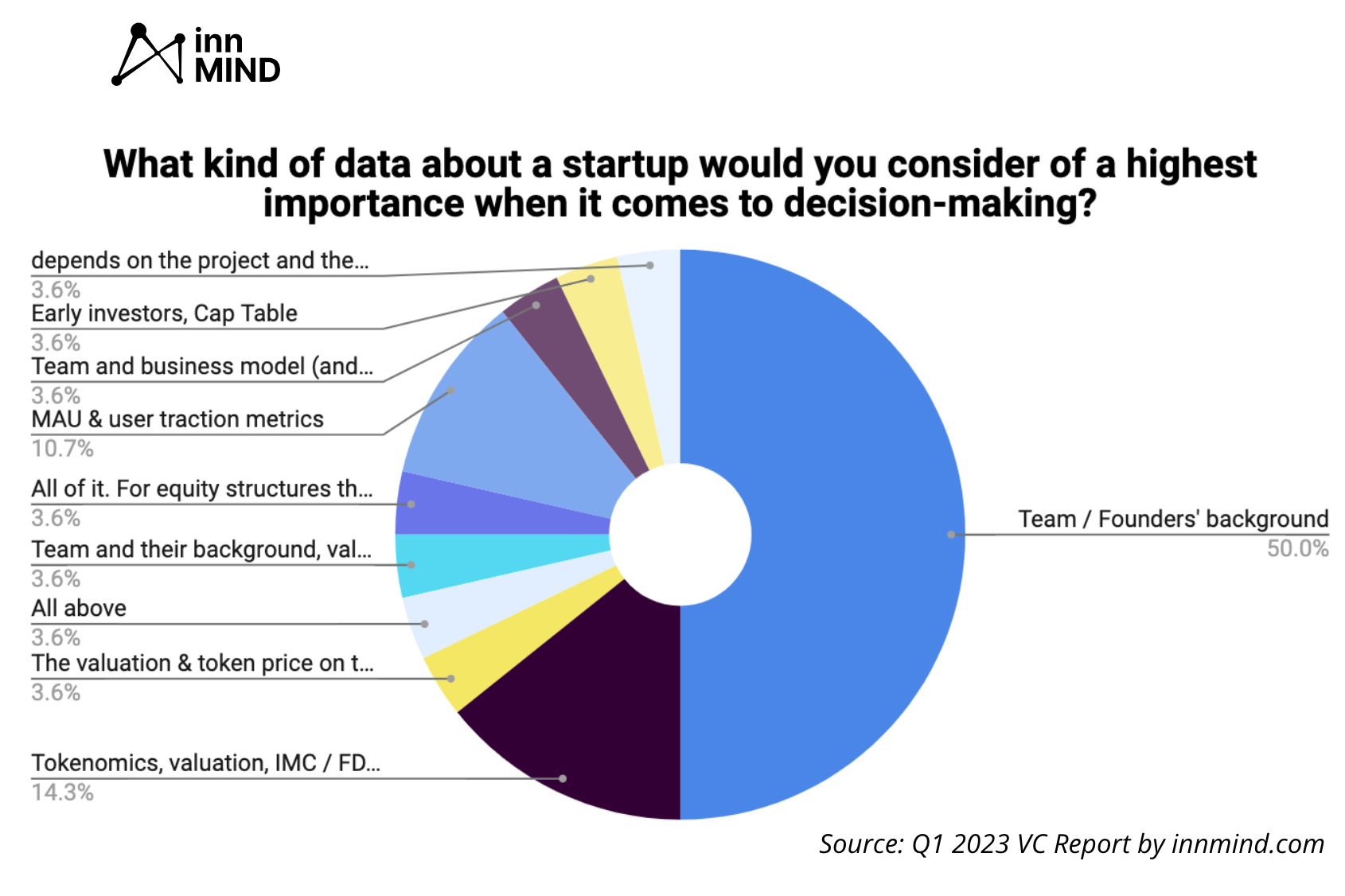 The report quotes Ross Soroka from Atesis Capital, who nailed the answer to this question:
Team and their background, valuation/tokenomics, traction metrics all matter equally, then cap table and marketing metrics.
Another notable insight shared by one of the VC respondents: "A startup's ability to clearly articulate its value proposition and demonstrate a solid understanding of its target market is crucial for securing investment in this space."
The crypto VC market report not only offers average statistics and figures but also includes valuable insights and direct quotes from professional VCs in the web3 and crypto sectors. These firsthand perspectives provide a unique look into the minds of investors and the strategies they employ when navigating the ever-changing crypto landscape.
The InnMind report is an indispensable resource for both crypto VC investors and web3 startup founders seeking to understand the current market dynamics and investment trends. With its combination of quantitative data and qualitative insights, the report provides an in-depth understanding of what the future holds for the web3 and crypto sectors, as well as what drives investment decisions in this space.
Download the report for free and read it to get a unique VC perspective on the end of the crypto winter and the investment trends shaping the web3 ecosystem.
---
Read also: