Web3 Trends.
Everyone from the hotshot VC to the Starbucks barista is talking about it.
But whom should you listen to?
Maybe not my dude making a double venti cinnamon hazelnut macchiato (with extra whip cream of course!).
I mean, I love the guy, but every time I go in there, he asks me the price of SHIB. 🤣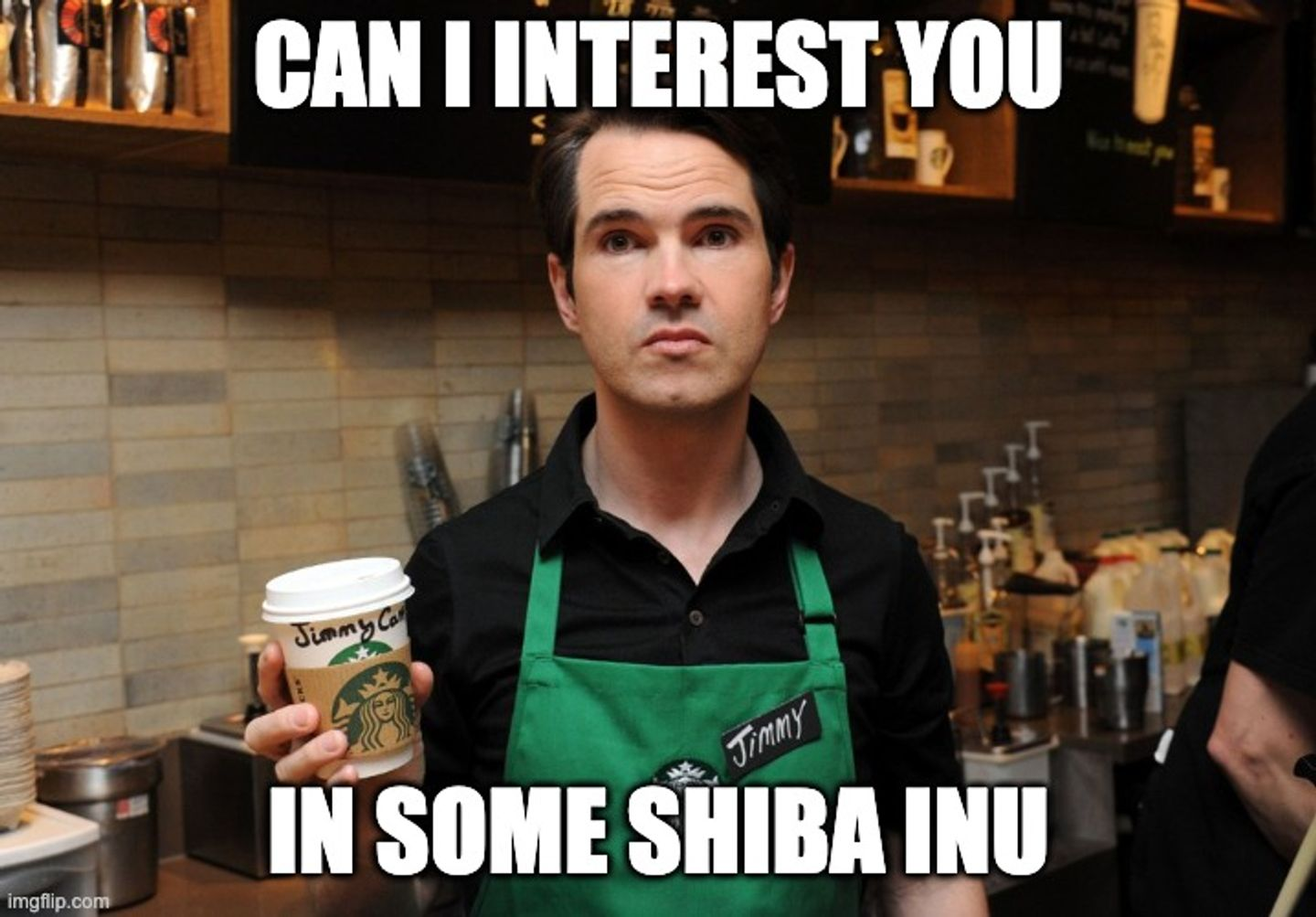 As a VC firm, we're listening to our fellow VC – Andreessen Horowitz (a16z).
A16Z has:
been around since 2013
invested in several web3 companies (OpenSea, Lido, Solana, Wormhole, etc.)
put out a 🔥 report on web3 trends
We read through the 60-page report "State of Crypto 2023".
Here is the 1-2-3 on all the juice:
1️⃣ Big Theme
2️⃣ New Entrants
3️⃣ Things To Watch Out For
Crypto trend to watch 👉 Ethereum Scaling
Let's be real, 2022 was a BIG year for Ethereum.
It's not just because all competing L1s began to fall off the 🗾 but because Ethereum:
upgraded from PoW → PoS
This allowed Ethereum to process more transactions + consume less energy.
Check it out 👇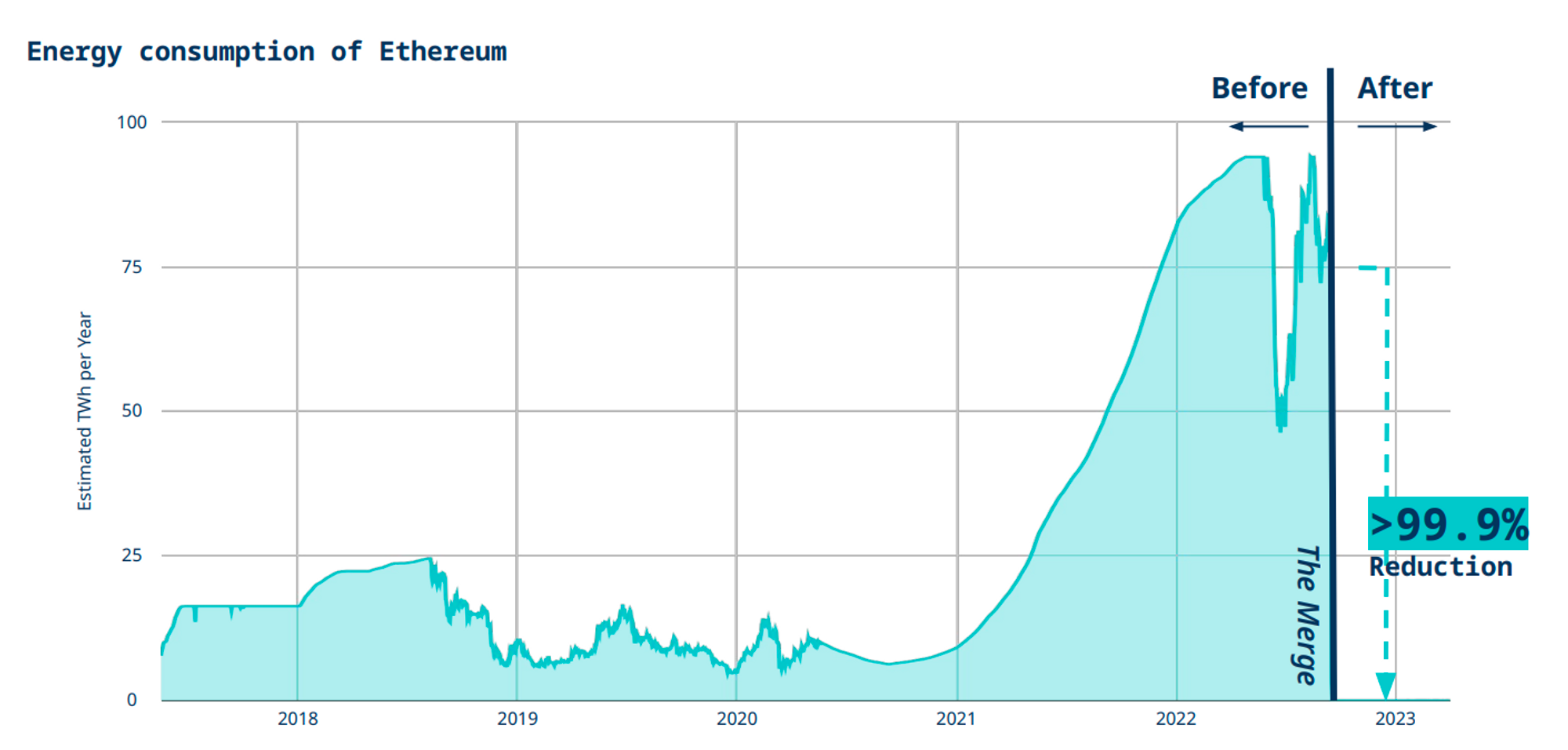 Yes, that's a 99% reduction!
The last time the chances of something were reduced by 99% was Barcelona's Champion's League hopes when they let Messi go. 😭
After The Merge, Ethereum consumes 0.0026 Terrawatts per hour (TWh) to power the network and process transactions in 1 year.
1 TWh = 1 million megawatt-hours (MWh) or 1 billion kilowatt-hours (kWh).
Fun Fact: A typical toaster consumes ~1 kWh of energy per hour of usage. That's about 356 kWh per year.
Compare this to (annual energy consumption):
Youtube – 244 TWh per year
Bitcoin – 115 TWh per year
Gold Mining – 185 TWh per year
PoW Ethereum – 78 TWh per year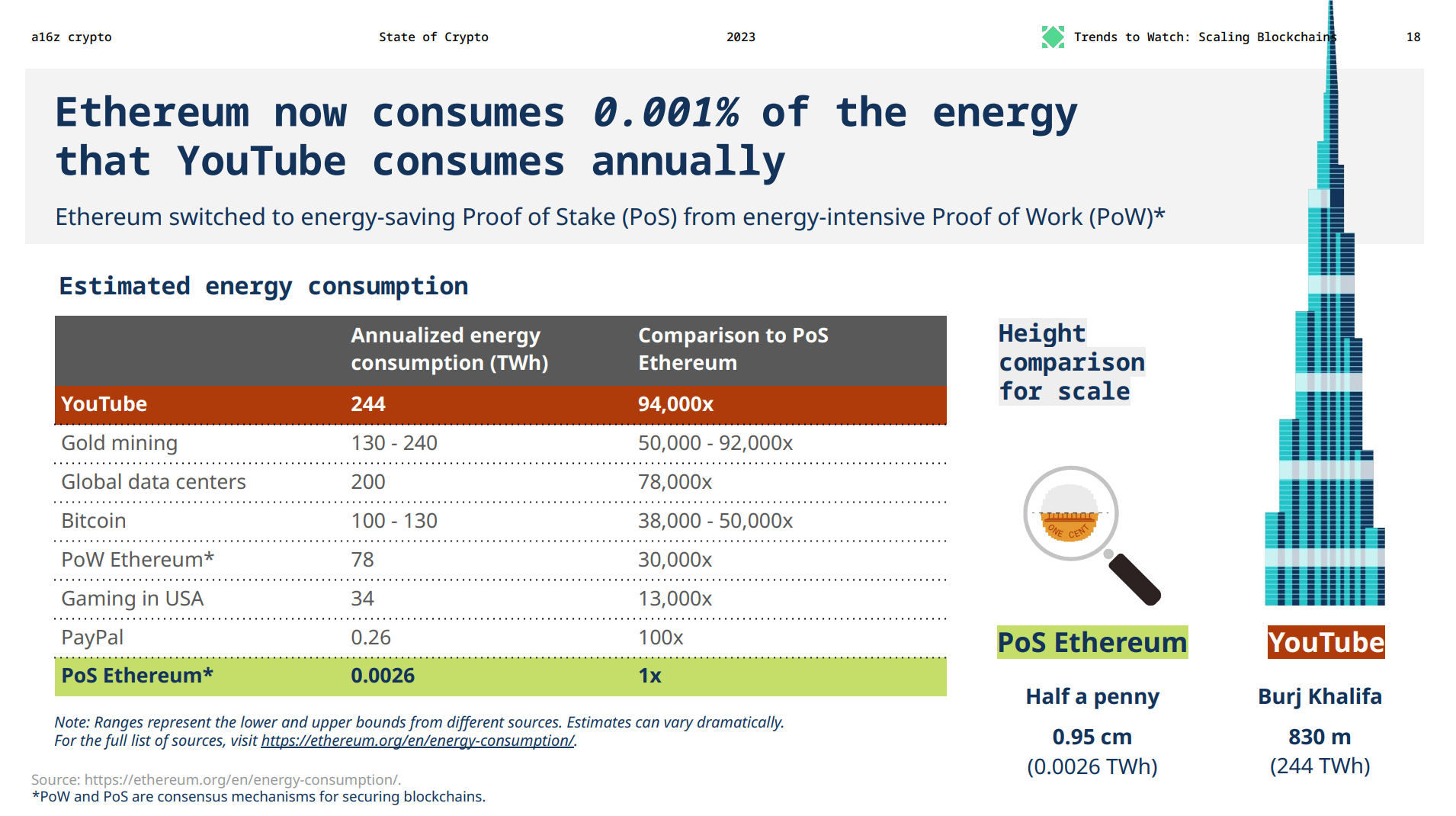 Room for the growth of L2s
The [next] big lever for Ethereum scaling is – L2s.
Layer 2s like:
Optimistic rollups – Arbitrum, Optimism, etc.
Zero-knowledge rollups – ZK Sync, StarkNet, Polygon, ZKEVM etc.
Currently, less than 7% of the fees generated on Ethereum are going to these L2 rollups.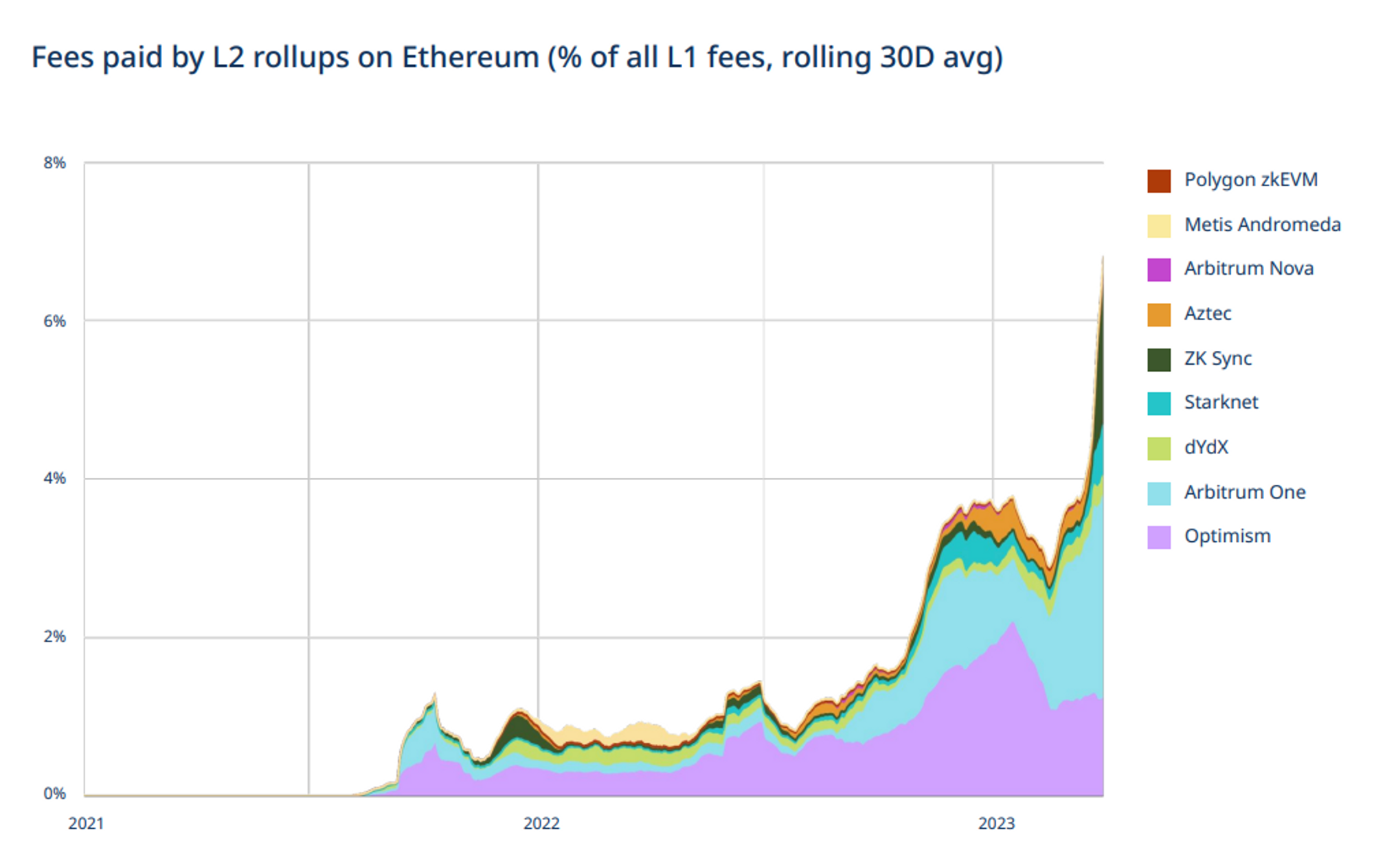 That's crazy, considering L2s are almost as big as Ethereum in terms of:
1. Value locked
Ethereum's total value locked is – $31.7 billion
And the top-3 L2s have:
Arbitrum → $7 billion
Optimism → $2.1 billion
zkSync → $0.2 billion
These Layer 2s ☝️ have almost a third of the value that Ethereum does.
2. Transactions
Ethereum's transactions per day – 800k - 1 million
And the top-2 L2s have:
Arbitrium → 1.2 million transactions per day
Optimism → 410k transactions per day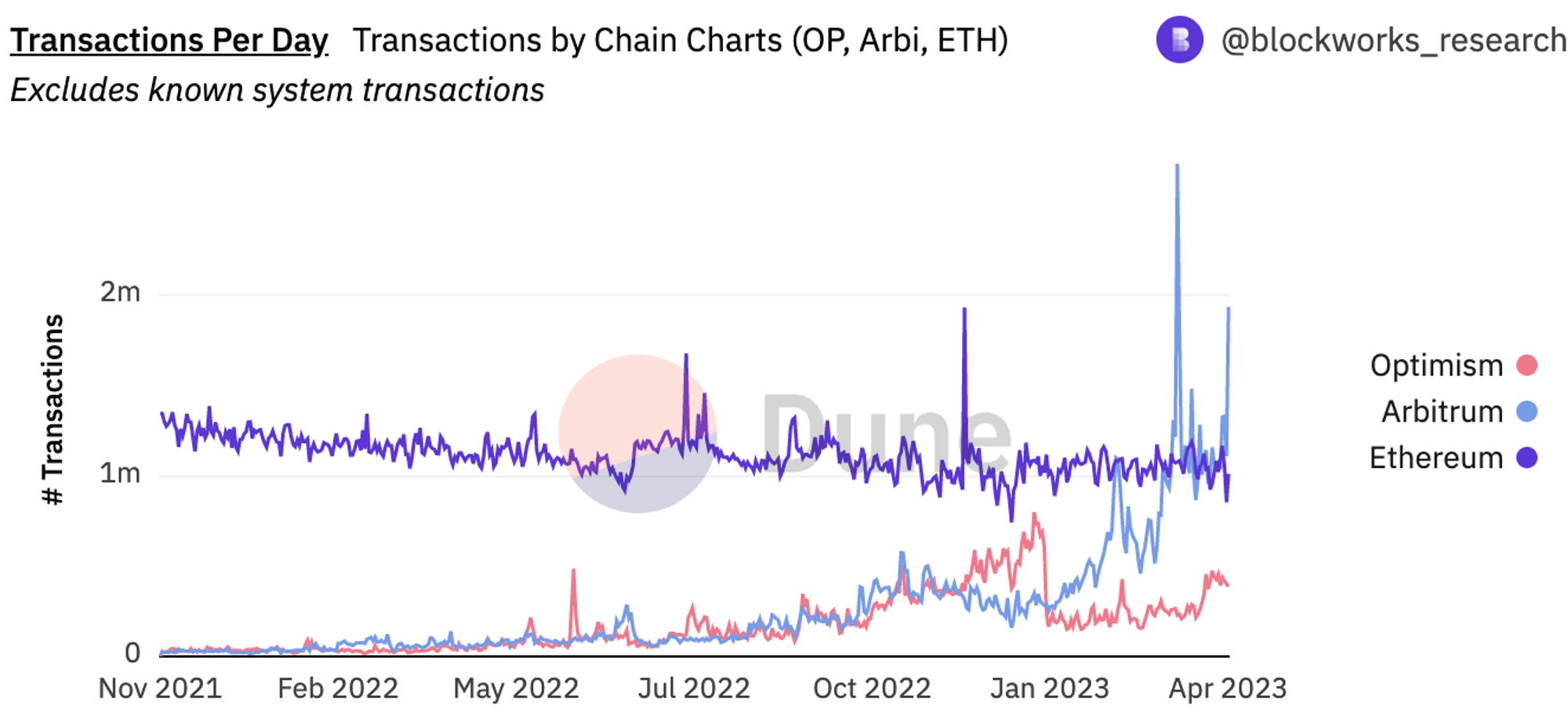 Granted Arbitrim's daily transactions are inflated because of the ARB airdrop last month. But even before the airdrop, Arbitrim's transactions per day as around 700k.
Both L2s quite easily 🚀 over Ethereum in terms of combined daily transactions.
Developers experimented with rollups
Blockchain developers were like Quentin Tarantino constantly tinkering with his movies. One day it's a movie about Jewish soldiers in Nazi Germany, the next it's a Hollywood movie about Hollywood movies. 🤣
The biggest experiment that will pay off in 2023? → Zero-Knowledge proofs or zk proofs.
What are zk proofs?
A zk proof is a method of validity data without revealing the statement itself. The 'prover' is the party trying to prove a claim, while the 'verifier' is responsible for validating the claim.
These proofs make blockchains more:
And zk proofs are 🚀 by – academic publications, Githubs stars, and daily transactions.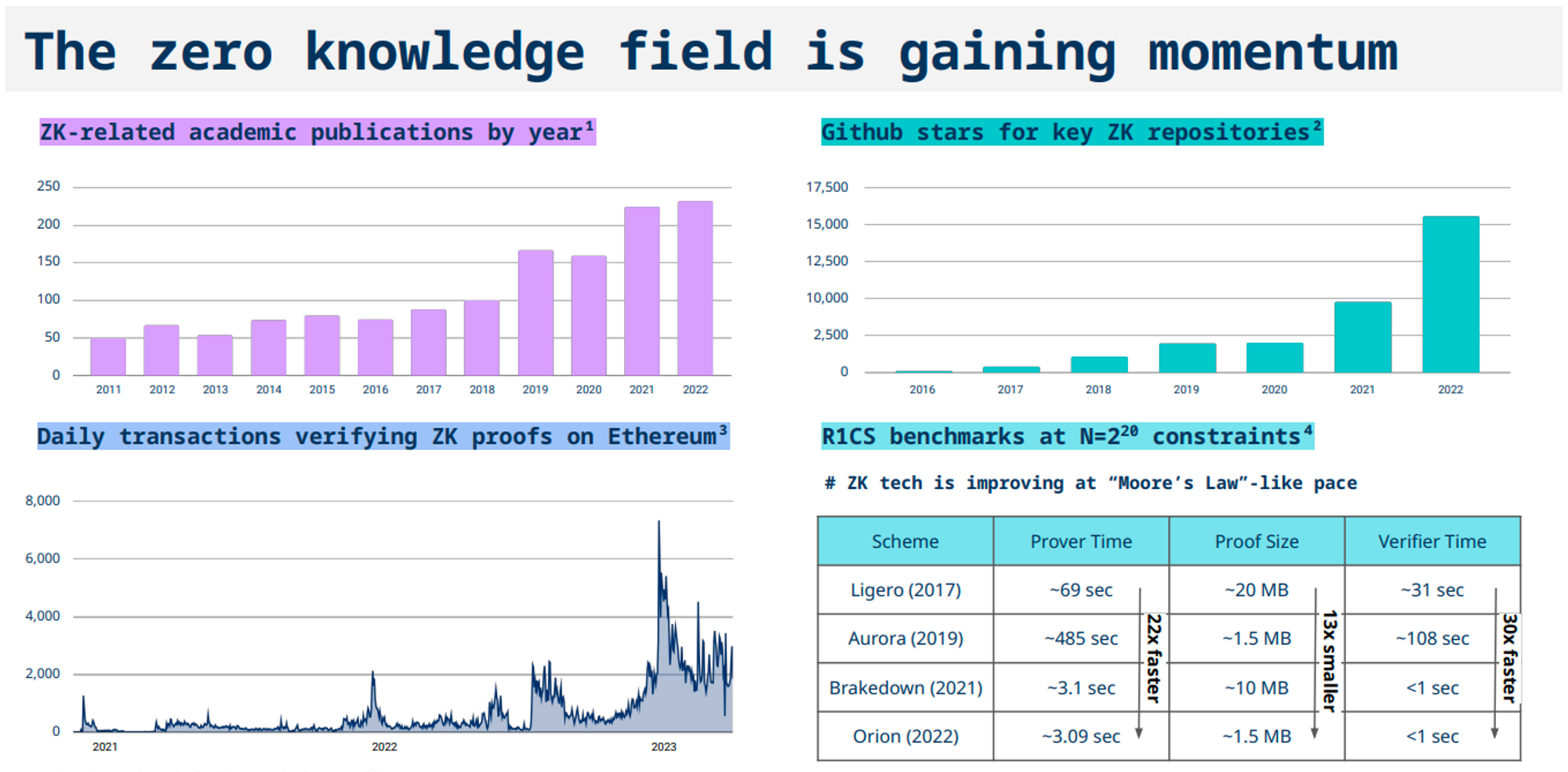 Crypto trend to watch 👉  NFTs for brands and Web3 Gaming
1️⃣ NFTs for Brands
In 2022, despite the NFT wave going down like Chelsea's title hopes, brands stuck with it.
Several brands like:
…got down and dirty with NFTs. Some did it well, others not so much.
Major companies will jump into the NFT bandwagon for 2 reasons: to earn revenue + create loyalty.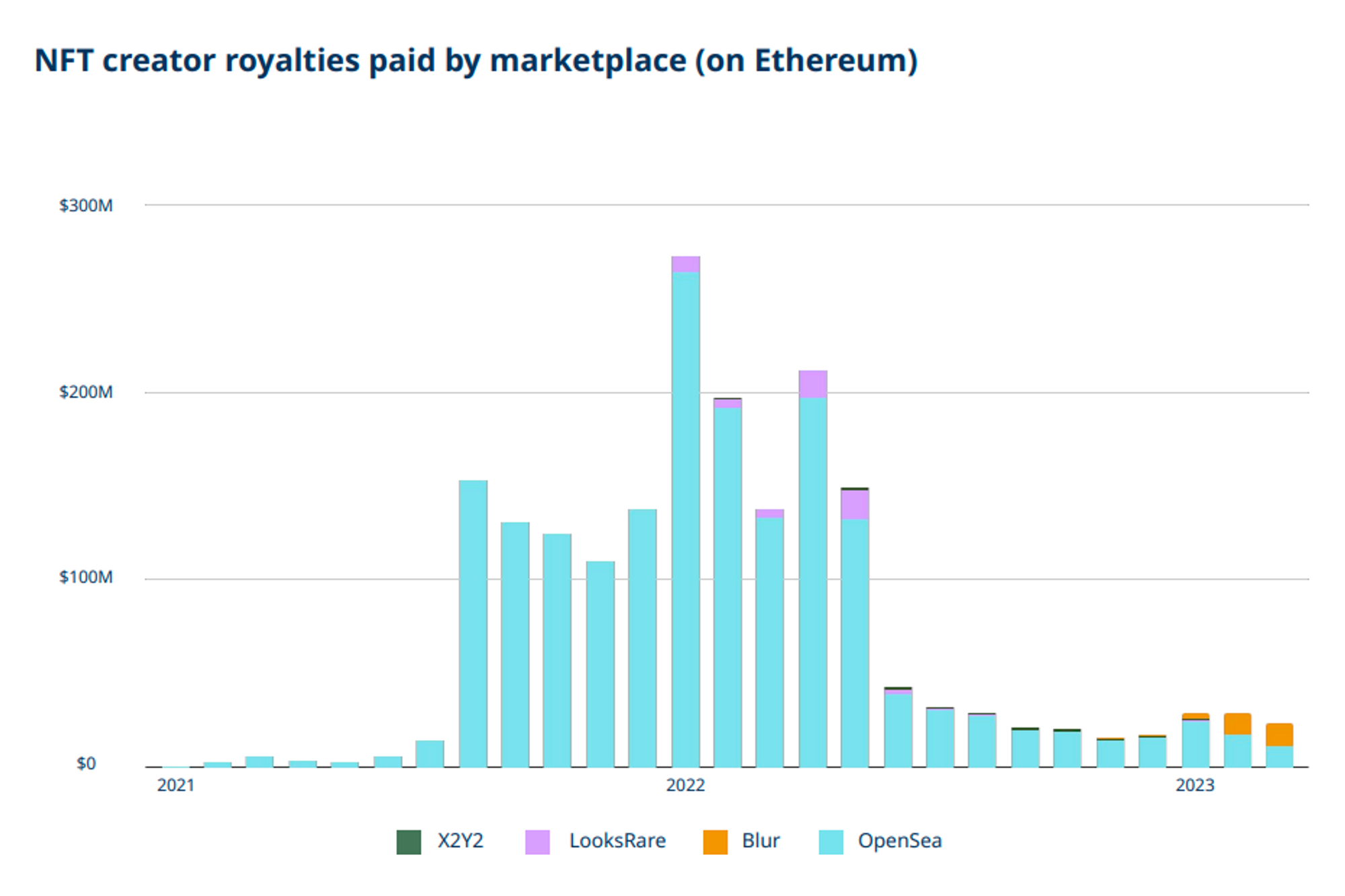 NFT creators earned nearly $2 billion in royalty revenues. And NFT marketplaces that facilitated these trades earned at least 10 times as much.
Brands want to bring this ☝️ value to their companies and engage their customers directly.
And that's why every major lifestyle, luxury, and even comedic brand is jumping into NFTs.
2️⃣ Web3 Gaming
A16z calls Web3 Gaming a "huge opportunity" to bring newbies into crypto.
Here's why:
💰 High spenders – Gamers spent $68 billion in 2022 on in-game purchases
🚀 Big launches – Over 700 web3 games were launched in 2022
🔥 More activity – Web3 gaming saw 23 times the transactions compared to DeFi.
Even with the bear market for cryptocurrencies, web3 gaming's events + unique addresses resurged in 2023.
Check it 👇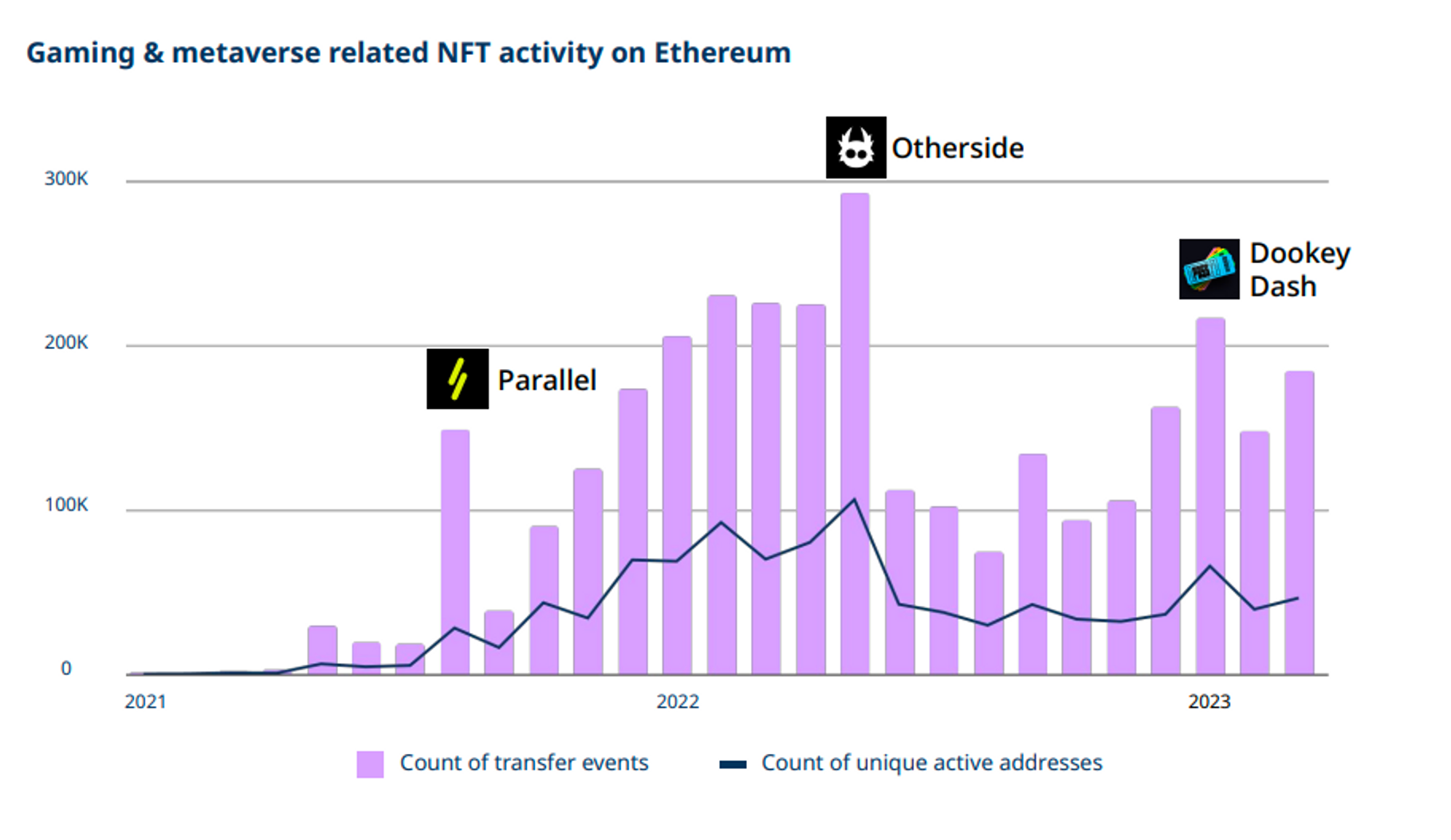 By the way, if you're building an amazing web3 gaming project, you probably need this crypto gaming guilds list with all the data for your go-to-market and bizdev strategy!
👉 3 Things To Pay Attention To:
A16z highlights a few useful themes to watch out for in 2022.
Now, these might not have an immediate impact, but in a few years, these themes will influence a ton of what goes on in the crypto space.
DAO participation
Communities are the key to web3. And communities are organized through DAOs. The three metrics to measure a DAO's worth are:
total votes
unique voters
unique proposals
United States policy woes
The US is falling behind in the race to create an accommodative policy for crypto companies.
Here are 2 signs of this (between 2018-22):
📉 US dev count decreased by 20%
📉 US traffic to crypto websites is down 30%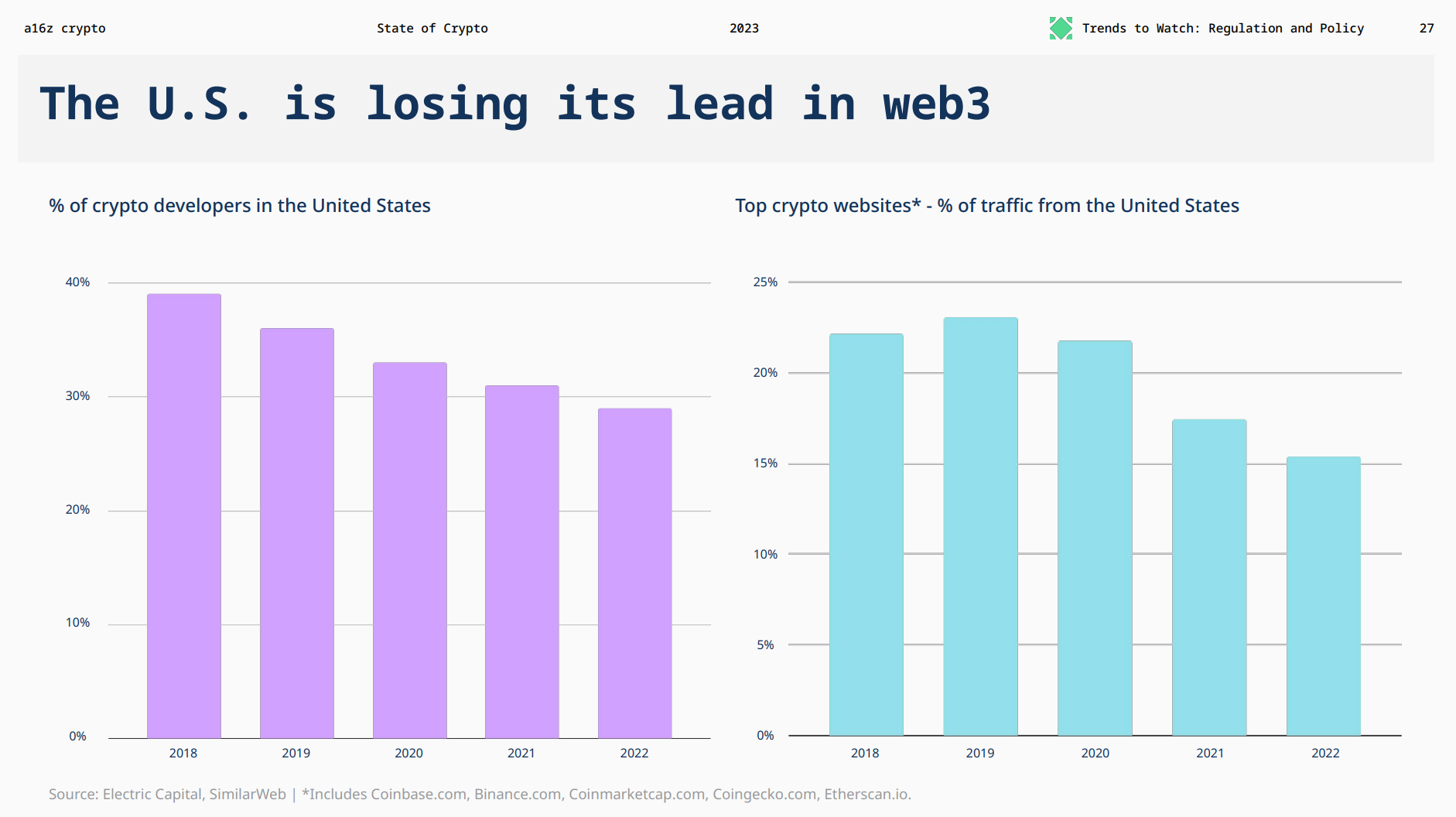 Staking Regulation
One big policy decision for the US is – staking.
The US SEC considers ETH as a "security" and the centralized exchanges that provide staking services and rewards as offering the sale of "unregistered securities."
This is affecting US exchanges like:
But beyond the regulatory mess, a16z calls staking a way to transform "collateral into outsized economic security."
Staking in cryptocurrencies, for example polygon staking, plays a crucial role in generating passive income and securing blockchain networks, making it a vital component of the crypto ecosystem.
TLDR of the report
1️⃣ Big theme – Ethereum Scaling
2️⃣ New trends – NFT for brands and Web3 gaming
3️⃣ Things to watch out – DAO participation, United States policy woes, and Staking Regulation.
Do you agree with a16z's 2023 crypto trends? Let us know in the telegram group comments.
---
Read also: