The author is Anna Magiera, Finance PM Senior Partner, Startups & Venture Businesses. Anna has 15 years of corporate, venture, and startup experience and a vast network in the CEE region. She has worked as a part of EY and PwC advisory practice. Anna was a part of management teams in Venture funds, PE, and CVC funds. Board member of Startup Hub Poland.
Market analysis is an important exercise at any stage of the startup life. When you validate your idea, you need to go deep into the industry you are targeting and get a thorough understanding of its size, trends and players. Similarly, a later stage startups shall keep an eye on what is going on in the market, how it changes with the time, what are competitors doing and why, which deals are happening, what are the valuations, etc.
I would suggest to divide the analysis into three dimensions:
Market size aka potential
Market trends
Competitive landscape
Market size analysis
Make sure you have your TAM*, SAM**, and SOM*** identified.
*Total Available Market is the total market demand for a product or service.
**Serviceable Available Market is the segment of the TAM targeted by your products and services within your geographical reach.
***Serviceable Obtainable Market is the portion of SAM that you can capture.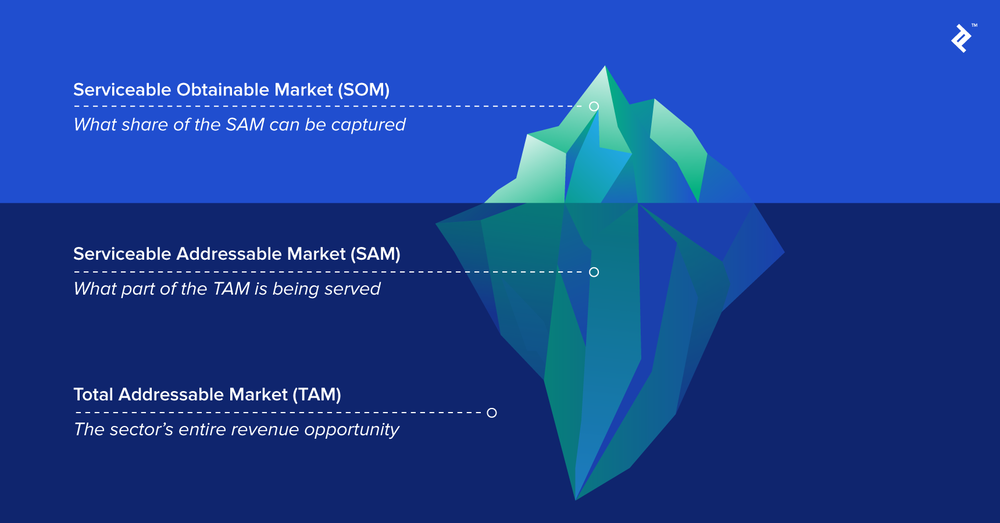 SOM reflects your ambition and strategy. It is basically the long-term annual revenue of your startup. Hence don't just take a nice number and add it to your pitch deck, be ready to explain and prove that you are capable of getting that piece of the pie. You have enough resources, your go-2-market strategy is bulletproof and your team knows what they are doing.
Market trends analysis
Analysing market trends is a very useful strategic tool for understanding the market behavior. It also helps to make predictions for the future and understand the relevance of creating a product and better strategic forecasting.
How can a trend be defined? Typically, the first signs of a shift show themselves through social media or engagement metrics. This crucial rise or fall in traffic, engagement, or variation in demographics is what reveals your competitive advantage.
The earlier you recognize these, the sooner you can react, prepare for potential threats, and take advantage of upcoming opportunities.
It is a bad idea to launch a startup in a market that is shrinking. Thus your market should be growing. You must understand the patterns and have long-term vision. That will be essential when developing your product and business roadmap.
I advise you to look for studies and surveys from consulting and analytical companies: Deloitte, McKinsey, CB Insights, etc. They frequently publish useful reports, data and research. Make sure to choose your information from reliable sources. Don't be lazy, double-check and verify everything before you use any figures.
Competitive landscape analysis
Never ever delude yourself with a false idea that there are no competitors. Your potential customers are somehow solving the problem already.
Therefore cautiously map your competitive landscape. Remember that better UX/UI alone won't bring you far. Being cheaper is also not a competitive advantage, especially if it means operating on a lower margin.
Always analyse your competitors through the eyes of the clients. How their websites look, what they blog, and what the feedback they receive is. Follow them on Facebook, Twitter, and Linkedin, as well as other relevant forums. Your competitors are the second important source of information for you after your real and potential clients.
Additionally, look for products with similar behaviors, for example, similar in distribution channels, or have the same target audience, or give a similar solution. Try to understand what you can learn from them.
In case you are building a venture business, keep track of latest deals on the market: investments, M&A, etc. This information is very helpful for developing a fundraising strategy and talking to investors.
Final thoughts
Market analysis is one of the essential parts of your pitch deck, moreover it's helpful to have all relevant information structured and ready for the fundraising process and investor's due diligence: tables, reviews, links, etc.
Market expertise is one of the most valuable non-material assets of your business. Investors are looking for teams that know their markets inside out. This is a key to building trust. If you know your market well, you will be able to succeed. Otherwise, invest some time and get to know it before you try to conquer it.
Anna was also a speaker at the private workshop "Financial Model: What Investors Want to See" for InnMind premium startup. At the event, Anna covered topics about basic structure of the financial model, main mistakes when working with the financial model, financial metrics, etc – everything that investors want to see in the financial reports.
If you want to join upcoming webinars and workshops for startups from InnMind, make sure you have a startup profile registered on the platform and an active membership plan in place!
---
Read other posts in our blog: