Everyone knows that startups focus on growth in their early stages. This could be growth of an audience, growth in quality of a product/service or growth of revenue.
However, this isn't always an easy journey.
InnMind helps these startups by allowing them to unlock their true potential.
Every two weeks, InnMind hosts a VC Pitching Session, which is an online event with pre-selected startups from the world of Web 3.0, crypto, blockchain and other relevant verticals. Each startup can pitch their business directly to decision-makers at Venture Capital funds in their industry to get feedback and accelerate their fundraising.
With 38 sessions in the past year alone, InnMind facilitated 210+ deals between startups and investors, showcasing the effectiveness of the format.
The InnMind team carefully selects the startups and VCs for each session, making sure that there is a total match based on the investment and quality expectations of both sides.
Let's hear from some of the participants:
I'm always happy to participate in InnMind's VC pitching sessions since they never disappoint with the quality of web3 startups and entrepreneurs. As investors, we are used to relying on personal networks as the main source of the good quality deal flow, and InnMind is definitely one of them. Players like this are what we need for the healthy development of the crypto VC ecosystem. - Ivan Semenov, Managing Partner at Cryptomeria Capital
We have been working closely with Innmind since 369 Capital was founded. We appreciate the high quality deal flow and the pitching sessions organized by the team. Innmind's analysts reliably select good projects which are brought closer to the partners. The cooperation is always highly professional and characterized by the shared fun of working with startups. We are glad to count the Innmind team to our network. - Fedor Muegge, 369 Capital.
We pitched for the first time in an InnMind Pitching Session and since then, we're talking to investors literally every day. We have already closed the first round with Waterdrip Capital, the lead investor from the pitching session, and received several other VC offers on the table. That's incredible. - Alex K, Founder at NIFTSY
And this is just a small portion of feedback our hosts get right after each session: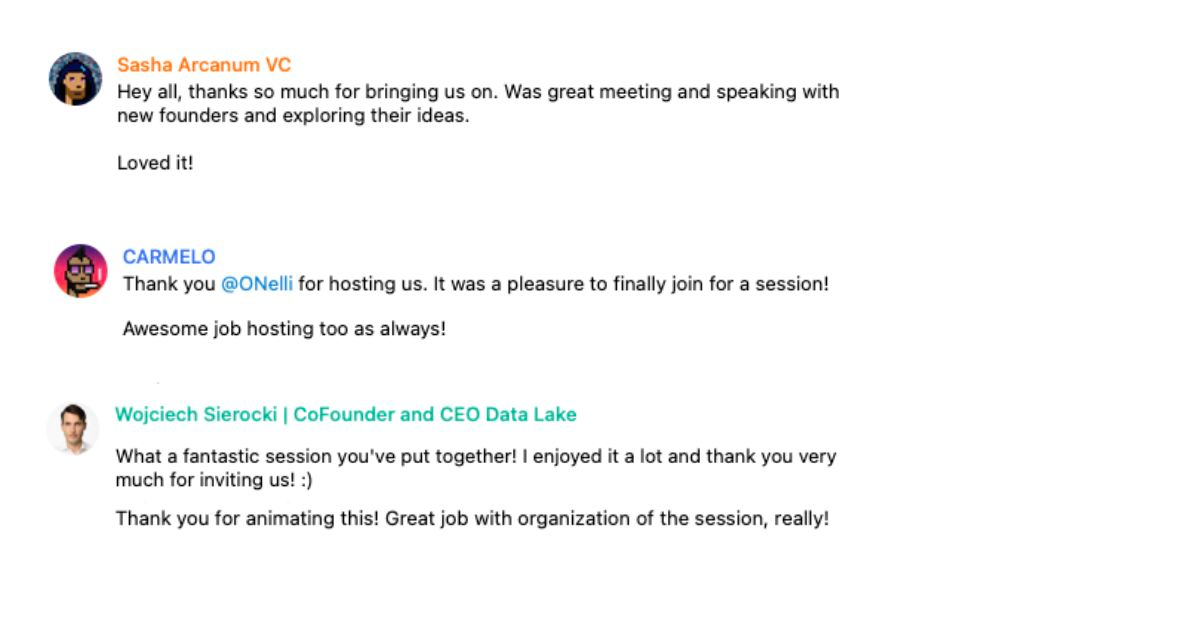 How can I pitch in a VC Pitching Session?
If you've decided you want to pitch, then follow these simple steps:
1. Register
The first step is to create an account on the InnMind platform by going through a simple registration process.
2. Create your startup profile
Now you're registered, navigate to the left-hand side menu and click on My Companies, then choose Add Company, and then Startup. This is where you can create a full startup profile which is visible to the rest of the InnMind platform members, including VCs.
❗ Note: Make sure to fill in ALL the details within your startup profile. This is crucial to attract any VC fund on InnMind. The more information you have about your product, team, marketing, fundraising needs and other details, the faster the decision-making from the investors' side will be. Startups that have a full profile on InnMind achieve 13x better visibility and more responses from VCs than those that have incomplete profiles or outdated data. Keep in mind that after each VC Pitching Session, the participating investors may rely solely on the information from your startup profile on InnMind so make sure it's the best it can be.
3. Check the Events Calendar
Once you are done with a startup profile - take a look at our events calendar to view the upcoming sessions that will be relevant to you. Typically, InnMind organizes one session every two weeks, focused on such topics as DeFi, infrastructure, GameFi, NFT, Metaverse, Blockchain and Entertainment.
In addition to the VC Pitching Sessions, InnMind regularly organizes workshops with experts covering diverse areas of development (marketing, tokenomics, sales, etc.) which are available to attend for free.
4. Upgrade to a Premium Subscription
Applying to participate in a VC Pitching Sessions is a feature only available to our Premium members. To get access to all the benefits of InnMind Premium subscription, click here. If you'd like to know what other benefits you'll get access to, here are a few features:
✅ Fundraising support after VC Pitching Sessions
After each pitching session, our VC analysts will individually send your pitch deck together with the full information from your startup profile to 120+ active Crypto VCs from our InnMind network, follow-up with them in Telegram, get feedback and make warm introductions with the VCs that are interested in your business. This is proven to be the most efficient approach to facilitate your fundraising and deal closure.
✅ Fast track to InnMind Capital pipeline
InnMind startups get a special fast-track to pitch to InnMind Capital – a crypto-focused Angel Venture Network, investing in blockchain and Web3 startups. Receive dedicated advisory support, feedback on your pitch and investments if you're a match.
✅ Access to Web3 founders community and other partners
As a Premium member - you'll get access to unlimited platform messaging, meaning you can approach thousands of other Web3 founders for potential partnerships, sales or other business development activities. You can also get easy access to InnMind's partner network of exchanges and IDO Launchpads, such as Scaleswap, Kommunitas and more.
✅ Marketing support
Premium startups get featured in our monthly startup digest blog and weekly newsletter with a joint outreach of 50,000+ people, as well as our social media. For additional organic marketing, you can be approved to promote your startup in our curated Quora and Reddit channels.
✅ Access to Knowledge Base and private advisory service
Improve your knowledge by accessing InnMind's Knowledge Base section with document templates (SAFT agreement, NDA and more) combined with marketing and pitch deck templates. InnMind Venture Analysts also work with Premium startups in private advisory sessions to provide detailed feedback on their pitch decks, fundraising strategy and other crucial aspects of business.
✅ Perks Club & Online Tools
Many companies have partnered with InnMind to provide special discounts and perks for Premium members. Amongst the current partners are:
Amazon Web Services ($5000 free AWS Cloud credits)
HubSpot (30% discount)
IBM Cloud ($120,000 IBM Free Cloud Credits)
Zendesk (6 Months Free Access to Support & Sales CRM)
Apart from the Perks Club, you can get early access to new online tools by InnMind, such as tokenomics modelling, VC ratings and more, together with exclusive discounts for industry events and acceleration services.
5. Apply to the next VC Pitching Session
After you became a Premium member - you can to apply to the next VC Pitching Session via the Events Calendar by simply clicking the Apply to Participate button next to the session of your choice. Make sure to apply at least 3 days before the session's date so there is enough time for you to complete the pre-selection process.
6. Speak to InnMind's venture analysts
Once you apply to pitch - you will get contacted by one of our Venture Analysts via your registered email to arrange an introduction meeting (30 mins-1 hour). This is to get to know your startup, assess your investment readiness and whether your solution type, stage and other criteria matches with the investment focus of the session.
7. Get ready to pitch
If you pass the selection process - you will be invited to pitch. Please note that having a Premium membership does not guarantee your participation in the session. It allows you to apply and join the selection process. We can help you decide whether you are ready or not.
Once successfully selected, you will receive an invitation link to join the session and any required guidance and support from the InnMind team to help you prepare for the session.
Here are some useful materials to refer to while preparing for the pitch:
8. Pitch at the VC Pitching Session
Every Pitching Session begins with a brief introduction from each VC and then the startup presentations commence. Each startup presents their pitch decks for a maximum of five minutes. Immediately after each pitch, there is an unlimited investor Q&A session.
Keep in mind that the InnMind VC Pitching Sessions are publicly live streamed on YouTube and LinkedIn so make sure not to disclose any confidential information that might be sensitive to your startup.
9. Engage in warm introductions and follow up with investors privately
After the session, our team sends individual follow-ups with curated information about your startup (collected from your InnMind profile) together with a pitch deck to all participating VCs and other relevant investors from InnMind network. If there is investment interest, our Venture Analysts make warm introductions in Telegram so you can engage in private negotiations with a VC to reach a deal.
Remember: You must be proactive to successfully close a deal. As a representative of your startup, it's up to you to successfully raise the funds you require. As a platform, our responsibility is to facilitate the process and make it as quick and easy for you as possible. We do this by opening the right doors and providing easy access to the right top-tier investors.
InnMind understands the complexity of this journey. It is why we have created a thriving ecosystem - to make founders' lives easier and to accelerate the achievement of important milestones.
---
MORE FROM INNMIND