Revenue Marketing Workshop for Startups with Zineb Layachi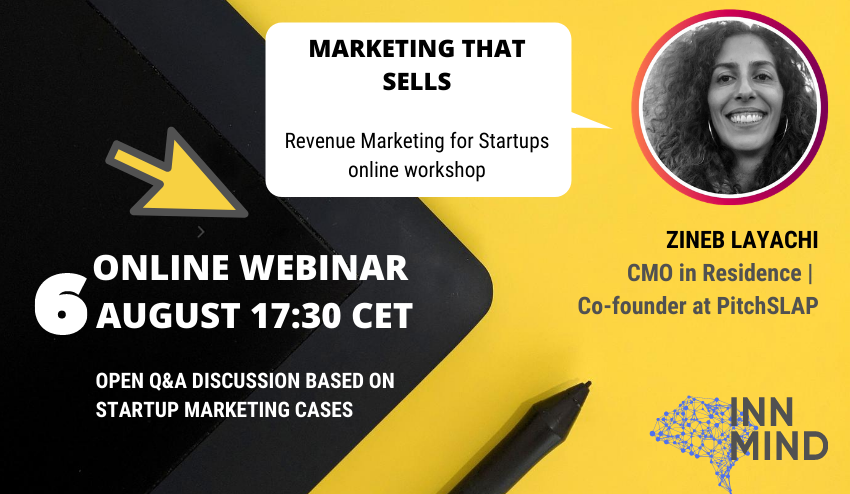 Can marketing become an efficient tool for growing startups' revenue and sales? Can we set up sales KPIs for the marketing team? Can lead generation turn into direct financial numbers for your company?
Many founders still don't know the answers to these questions. In particular because many marketing professionals avoid taking responsibility for sales and revenues.
"Marketing should sell, otherwise it is useless", said Zineb Layachi, one of the world's recognized professionals in strategic marketing.
And we fully agree with it!
Zineb Layachi has many years of experience in REVENUE MARKETING, which is the integration of marketing strategies and processes that result in accelerated sales opportunities. She acts as CMO advisor for many tech startups, driving direct sales and growing revenues through marketing techniques. She is the best person to answer the questions about the business side of marketing and how to implement revenue marketing in a startup development strategy.
On Thursday, August 6th 2020 at 17:30 CEST time we will have a special online workshop for startup founders "Marketing that sells", where you will have a unique chance to learn directly from Zineb Layachi, ask her questions, share your business cases and get practical advice.
You can watch the live version on InnMind youtube channel. But if you want to be "inside", to share your startup case and ask particular questions, getting recommendations which you may implement in your startup tomorrow, register in the form below:
Or watch directly in youtube live stream: https://youtu.be/jMpSAOFSmvM (click 🔔 to get notified when we start).
Among other questions about marketing startegy for startups we will discuss:
- How to create your marketing messaging that sells your product
- How to position your startup
- How to ditch the MQL (Marketing Qualified Lead) mindset
- Stop creating content that no one will consume
- How to save marketing budget
When: 06.08.2020 at 17:30 CEST
Where: interactive session in zoom for verified founders & livestream in youtube channel
Workshop duration: 1 hour
If you want to become a part of InnMind startup community and regularly participate in such online events as the upcoming webinar, Shark Tank VC Pitching Sessions, Startup Bootcamps and get access to wide range of benefits from InnMind partners, connect with relevant clients and investors, this is your opportunity to sign up, create a startup profile here and upgrade your status to become a PRO member!
---
Featured posts in InnMind blog: