Wallets.
It's that part of crypto which is in pretty much everything.
EVERY. THING.
Think about it, everything from:
Sending crypto from CeFi platforms to decentralized platforms
Connecting to decentralized applications to – use financial products, buy digital art, enter virtual worlds, or ape into 💩-coins
Earning rewards through participation, contribution, or voting
…is done through wallets. 👜
And BIG companies wanna get in on the Wallets game.
This week – 2 BIG companies – launched crypto wallets. 😲
👉 One of them is a BIG web2 company.
👉 The other is a BIG web3 company.
And they've got one BIG thing in common (apart from wanting to build wallets ofc 🤣) – they are pretty big on exchanging assets. Like HUGE!
🦄 Uniswap the biggest decentralized exchange
Uniswap unveiled its plans to launch a crypto wallet at ETH Denver this week.
We can't wait to test Uniswap's wallet.
But it's yet to go live. For now, all we have is this video, but no wallet to test. 😢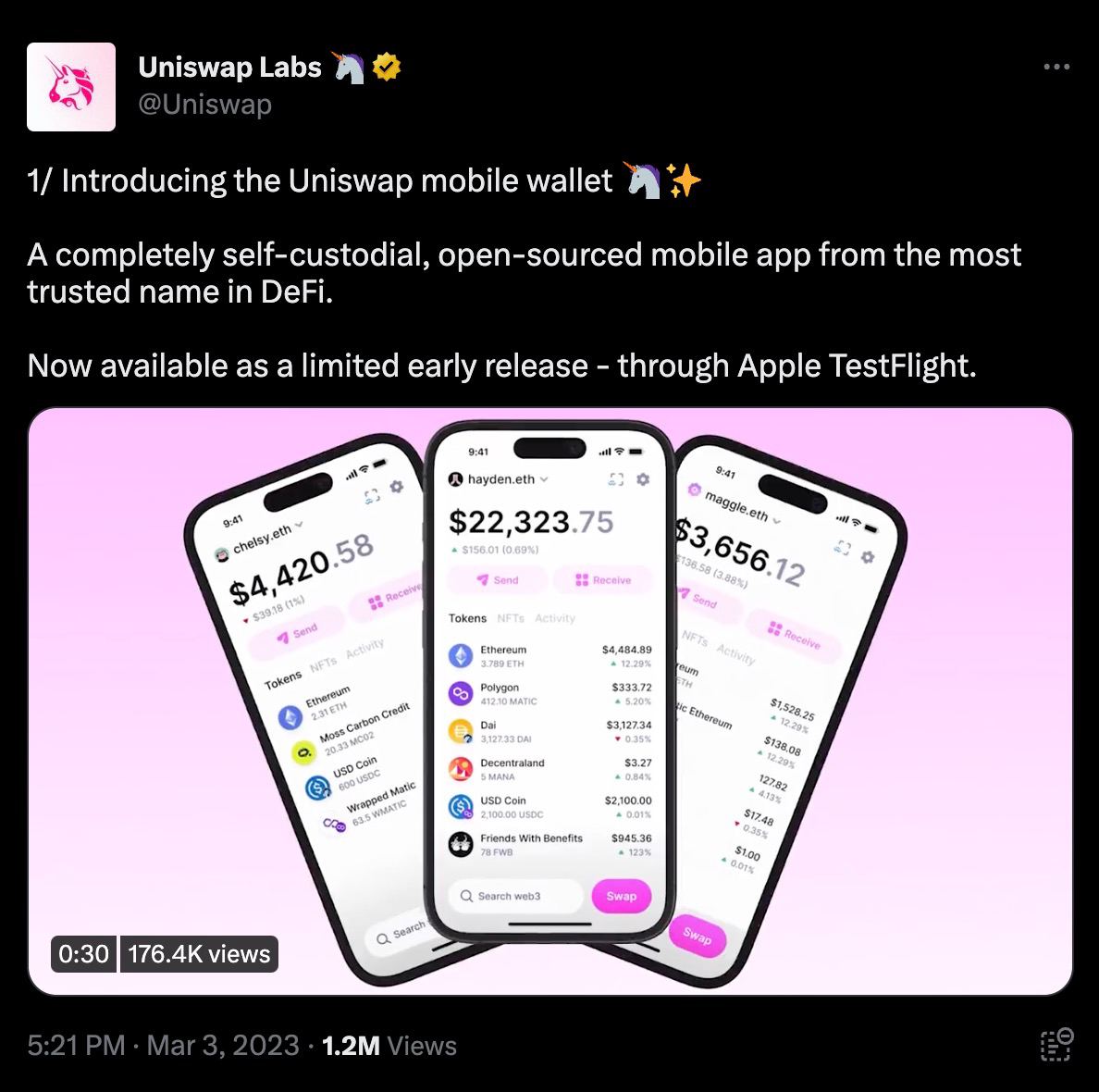 🥬 Robinhood's the biggest 0-commission stock brokerage ****
Robinhood's crypto wallet is called → Wallet. Just wallet.
That's right, no fancy-schmancy names like:
🔒 Securehood
🔒 Rob-you-not
🔒 Hood-n-seek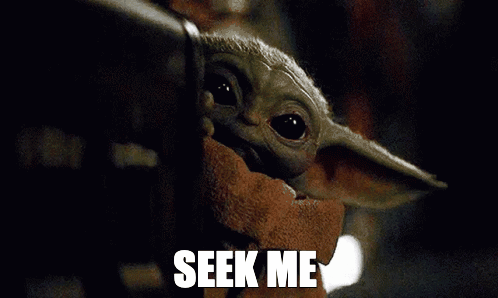 Robinhood's wallet is LIVE for [some] iOS users.
Lucky for you, we are ONE of them. 👀
So, we tested this out!
Here's our 3-part 🔥 take:
1️⃣ Onboarding
The onboarding was smooth af. 👌
Honestly, we had our private keys in about < 2 minutes and were ready to ape into some shitcoins and LOSE a ton of money (throwback to every trade in the last 12 months 😭)
But that's ☝️ the PROBLEM.
The onboarding was smooth because we were users of OTHER crypto wallets.
Robinhood's new users will be newbies.
And they need a more step-by-step approach to the onboarding.
Something like:
A tutorial video on using the wallet
An explainer of the importance of private key storage
A breakdown of how the wallet can be used to interact with DApps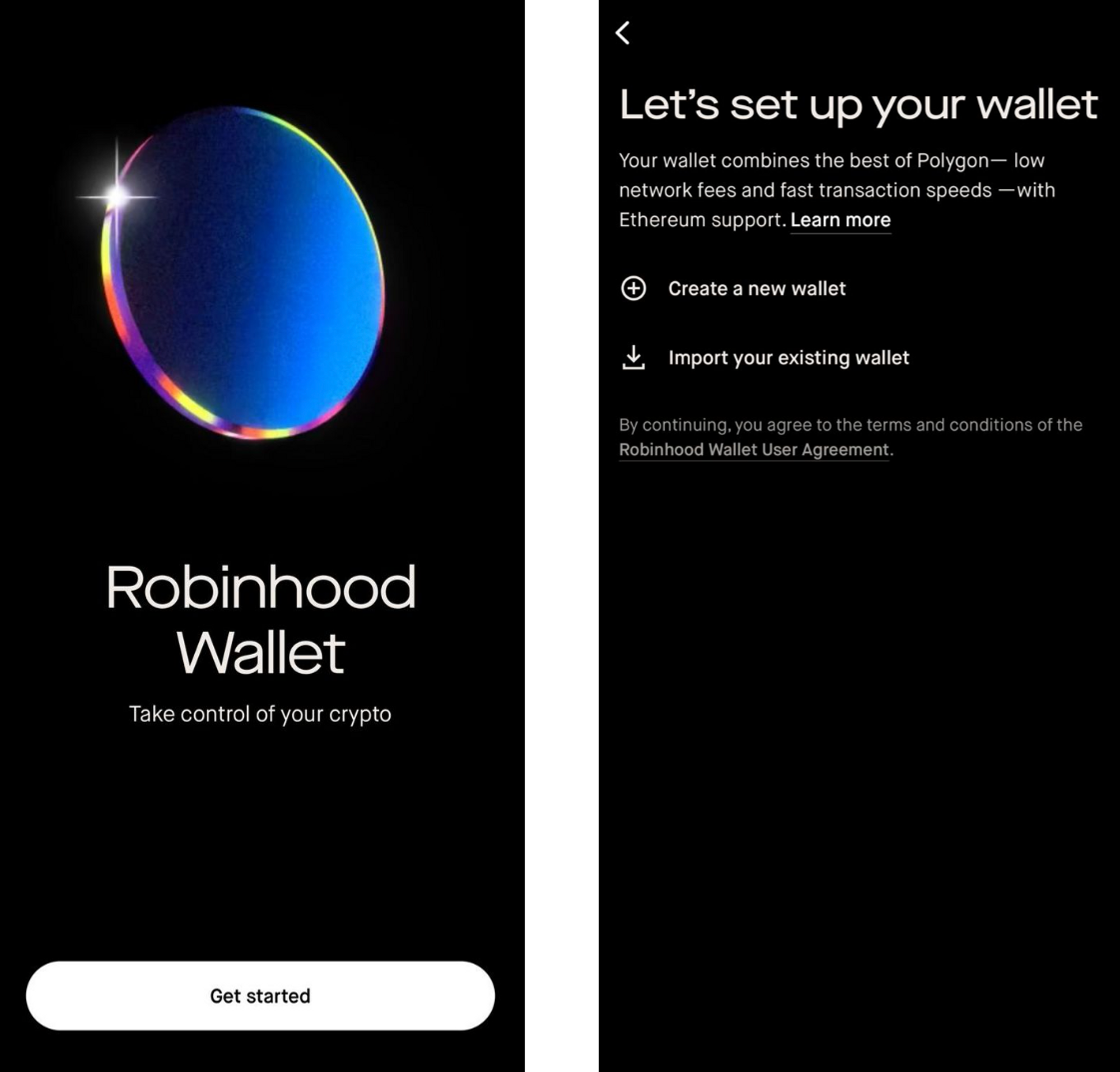 2️⃣ Connecting
Currently, the app supports only – 50 ERC tokens on Ethereum + Polygon.
It also displays NFTs on these blockchains. 🙃
That's it. ✋
Rn, Wallet is pretty much meant for the BIG few cryptos (either because of US regulations on Robinhood as an 🇺🇸 company or they're just testing things).
3️⃣ Customer base
It looks like Robinhood wants to get their customers to go:
⬅️ From apeing into meme-stocks
➡️ To apeing into meme-coins
In order words they wanna upsell to their current customers from equity trading to crypto trading. But crypto trading using their own self-custodial wallet.
And since Robinhood already has fiat on-ramps, this will be hella useful to on-ramp into the degenerate world of DeFi and NFTs with the Wallet.
Overall Robinhood's Wallet wallet is cool af for new customers.
But Robinhood is kinda shady. 🙃
After all – they've frozen accounts, mislead customers, and still have SBF and a few FTX execs on their cap table.
Should they really be the medium through which a BUNCHA new people get into web3?
And if you're building a Web3 wallet, register on InnMind and present your startup 👀 to thousands of web3 and crypto entrepreneurs and investors!
---
Similar topics: