The cryptocurrency world is getting bigger and bigger every day. Various new concepts and ideas emerge, which may well change the market fundamentally in the future.
Blockchain technology is changing not only the world of finance, but also the gaming industry. A new trend in gaming has emerged, called Game Finance or GameFi. What are these projects, how do they work in 2022 and what does the future hold?
There are thousands of GameFi startups on InnMind platform, and hundreds of venture capitalists that proactively invest in early-stage GameFi startups (both on our pitching sessions and directly). This provoked us to analyze  promise of GameFi in our new article for all those who want to understand it better.
What Is a GameFi And NFT
Game Finance, or GameFi, is a generic term for blockchain projects that monetize gameplay. That is, the user can receive coins for his or her development within a game.
GameFi projects operate on a distributed blockchain registry, which means that all of the user's objects within the game become the property of the user.
Characters, land, artifacts, weapons, and armor in such games are created as non-exchangeable tokens (NFT). That is, they become digital assets that can be bought and sold in the game and beyond. Which cryptocurrency will be used to make payments within the project is determined by its creators. Often, their own token is created for this purpose.
The birth of the technology and the industry itself took place back in 2013. It was during this period that developers began adding cryptocurrencies to their game projects. But the development of the GameFi sphere was slow. The growth impulse occurred in 2021 due to the active implementation of DeFi and NFT technologies.
GameFi projects are also based on a revolutionary play-to-earn mechanism. It is quite different from the pay-to-play model of traditional video games, in which you have to pay money to start playing.
New  market trends such as NFT and DeFi, as well as the growing demand for online games after global lockdowns, couldn't help but lead to the emergence and meteoric rise in popularity of such an innovative field as GameFi. Despite some of the downturn felt in the currency market, the blockchain game development sector remains a leading force in the crypto space.
How Does GameFi Work
The essence of the GameFi game concept is to combine NFT and DeFi, as well as blockchain technology and the cryptocurrency sphere. Such wide possibilities allow to use games in combination with loans, farming, lending, stabelcoins, etc. The game is launched in the blockchain sphere, and the obtained tools are in the possession of the player.
Different attributes can be used as NFT tokens, such as territories, heroes, weapons, protection for players, skills, etc. Non-interchangeable tokens, confirm the user's ownership of these digital objects. Players acquire these items during the game and can trade them on NFT trading floors for profit or exchange them for cryptocurrencies, which, in turn, can be exchanged for fiat money.
Why Is GameFi so Popular
GameFi has managed to become a full-fledged industry with millions of engaged users. Decentralized finance and object tokenization are rapidly gaining popularity. The GameFi industry combines all of these areas.
Plus, blockchain games do not require gaming platforms. It is possible to play from cell phones, regular tablets or weak PCs. These characteristics make GameFi projects very profitable and affordable.
A strong influence on the level of popularity of GameFi has been the use of NFT objects in games. While decentralized finance allows you to earn digital money, non-interchangeable tokens give you the opportunity to invest in objects that can greatly increase in price. By selling weapons, artifacts, or characters from popular game projects, investors can earn hundreds of thousands of dollars.
How Big Is the GameFi Market
According to estimates by Crypto.com experts, the current total market for GameFi is about $55 billion. And the current player base of such projects is about 1 million daily users.
DappRadar estimates that there were 1.09 million daily crypto players worldwide as of February 13, 2022. The most popular blockchain games were Hive and WAX - their attendance is the highest among other GameFi projects.
The Analysts' View of GameFi's Future
According to a recent report from analytics service DappRadar, Web3 games and Metaverse projects attracted $748 million in August. That's a 135% increase over July. And during the Q2 of 2022, blockchain games were able to attract $3.1 billion in funding. That brings GameFi's investment total for the year to $6.9 billion.
Analysts predict that by the end of the year, investment in blockchain-based games could reach $10.2 billion, a 20% increase over the amount investors spent in the field in 2021.
This data shows that investors remain optimistic about GameFi despite volatile market conditions.
How Big Is the Market for Play-to-Earn Games
The dynamic and flexible nature of the gaming sector has facilitated the shift from a Pay-to-Play model to a Play-to-Earn model. In 2021, the global p2e gaming market was valued at $776.9 million, and according to Crypto.com analysts, it will reach $3.6 billion by 2028.
Is GameFi a Good Investment
GameFi attracts many investors who tend to choose entertainment projects aimed at the general public.
Of course, such projects mostly appeal to GenZ venture capitalists and game enthusiasts. As a result, GameFi becomes an entry point for numerous aspiring investors.
A ChainPlay survey of 2,428 GameFi investors found that 75% of respondents joined the cryptosphere solely because of GameFi.
It's worth noting that blockchain gaming retains its appeal because of its undeniable benefits:
Gamers own everything they create. This means that more and more young users will be interested in such projects;
The opportunity to earn by playing. This concept is very liked by many players;
Players can influence the future of the game. Many blockchain games incorporate a decentralized autonomous organization (DAO) system. Token holders can suggest updates and various changes, as well as vote for suggestions that interest them.
All this makes GameFi projects popular, and gives investors the opportunity to view them as a profitable investment.
How Do I Invest in GameFi
If you like the video game industry as well as the DeFi or NFT field and would like to invest in some interesting GameFi project, you better start by researching the market. To get a better understanding of the blockchain game field, sign up on the InnMind platform and start your journey as a venture capital investor.
Problems of GameFi Projects
And yet, despite GameFi's leading position, the authors of such projects sometimes experience some problems when developing crypto games and at the time of their release.
This is because many developers face some difficulties, such as poor playability, unbalanced economic models, and an ill-conceived project management model.
But there are several points about blockchain-based games that developers themselves can fix. For example:
Building your own blockchain to maximize project flexibility and scalability;
Creating «whitelists» for the pre-sale of in-game tokens and assets;
Improving social engagement mechanisms for games;
Empowering NFT owners: digital assets can be made an attractive source of income through rent, loans or stakes.
Venture Investors' Point of View About GameFI
Of course, many players are waiting for new features and improvements to GameFi projects. But what do venture capitalists need from promising crypto games? We asked a few active VC investors from InnMind network with proven expertise in web3 games portfolio building (Atesis Capital and Arcanum Ventures) about GameFi's weaknesses and strengths.
Investors said the strengths of crypto games at this stage are NFT and tokens. However, don't make them just a means of selling something shiny and pretty - digital assets should benefit their owners.
Carmelo Giuliano from Arcanum Ventures explained: «GameFi attracts millions of new people to the blockchain space which is special in its own right. It is a tangible application to blockchain that is easier for retail investors to understand than a DeFi protocol or a Layer 2.»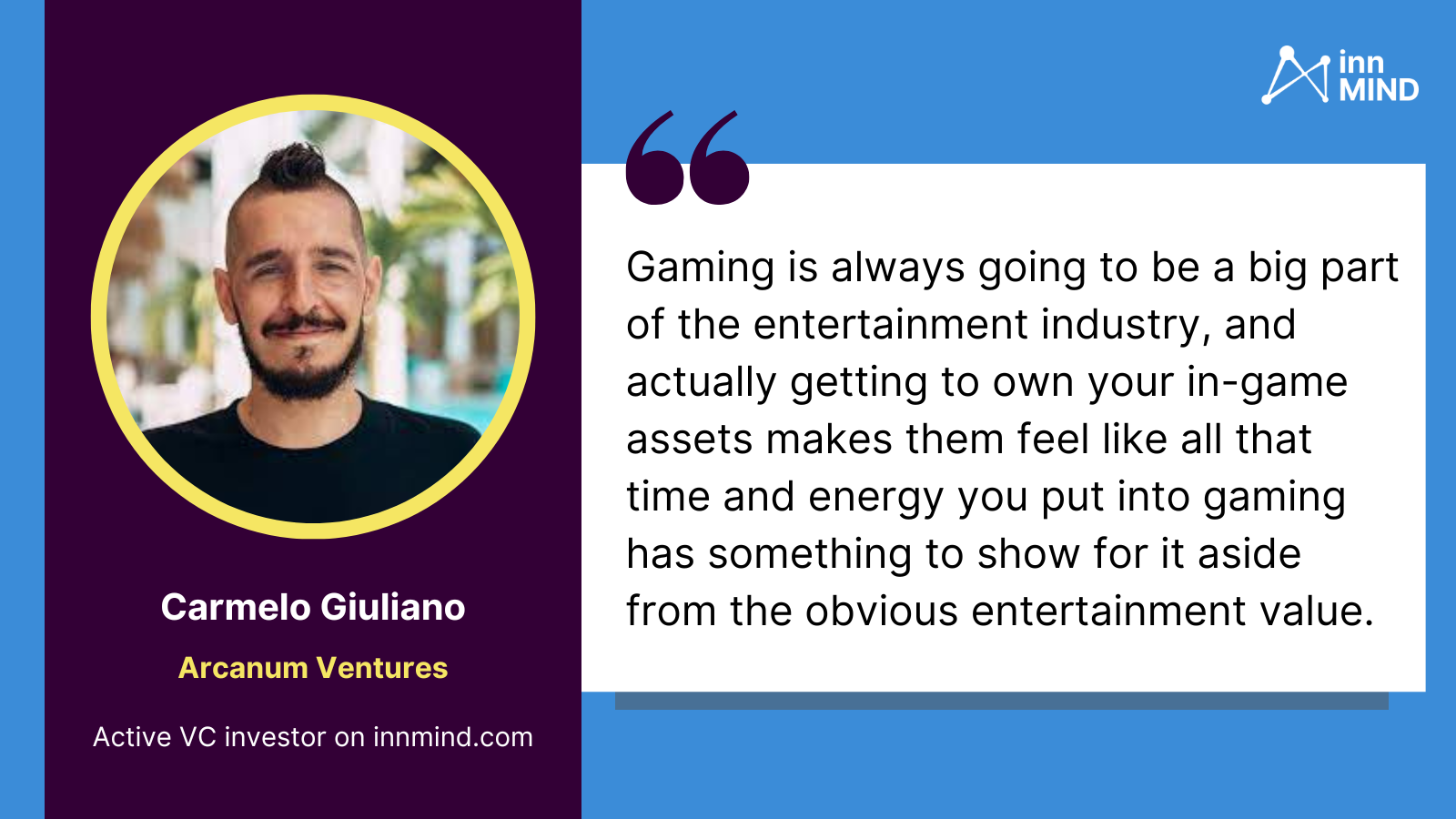 On the contrary, they cited poor gameplay, improperly integrated tokens/NFT, and inexperienced development teams as the weaknesses of GameFi projects.
Meanwhile, Ross Soroka, co-founder at Atesis Capital, a crypto VC with a huge portfolio in GameFi and Metaverse sector highlight the unreasonable valuations together with inmature quality of many GameFi projects nowadays:
"The current GameFi market is extremely over saturated, with many projects arriving at 100M+ valuations without a Minimum Viable Product. Additionally, we have been seeing many web3 copies of traditional games, using the blockchain technology, or the fungible/non-fungible tokens, as a selling point for the project, rather than the gameplay itself. This cycle has been fueled by investors that do not understand games, and are following an unsustainable trend. The current market, as is, does not offer any viable alternatives to games developed by the giants and even indie studios. In saying that, we have come across some quite elaborate, well thought out projects that are bound to shine due to the game design mechanics and graphics over the next 24 months."
In the opinion of Arcanum Ventures, weak projects can include games with a boring storyline, bad tokenomics and poor customer acquisition strategy.
"You can build the best game since League of Legends, but if you have no idea how to distirbute that game and build an audience of gaming enthusiasts hungry to be the first people to beta test it, you're doing it wrong. We work with teams with outrageous projects for month 1, but when pressed to explain how they plan on getting that many gamers to sign in on the first day, they haven't got a clue", sais Carmelo.
Despite this, venture capitalists believe that all these project's weaknesses can be corrected. First of all, startup founders should not disregard advice and listen to constructive criticism from investors. It is also worth paying attention to the formation of the project team.
"Weak projects come from inexperienced teams. This can be improved by hiring capable people who have worked on well-known games. Lack of marketing, again, can be improved by hiring the right staff. The gap between project and users can often be bridged by hiring experienced web3 specialists", says Ross from Atesis Capital.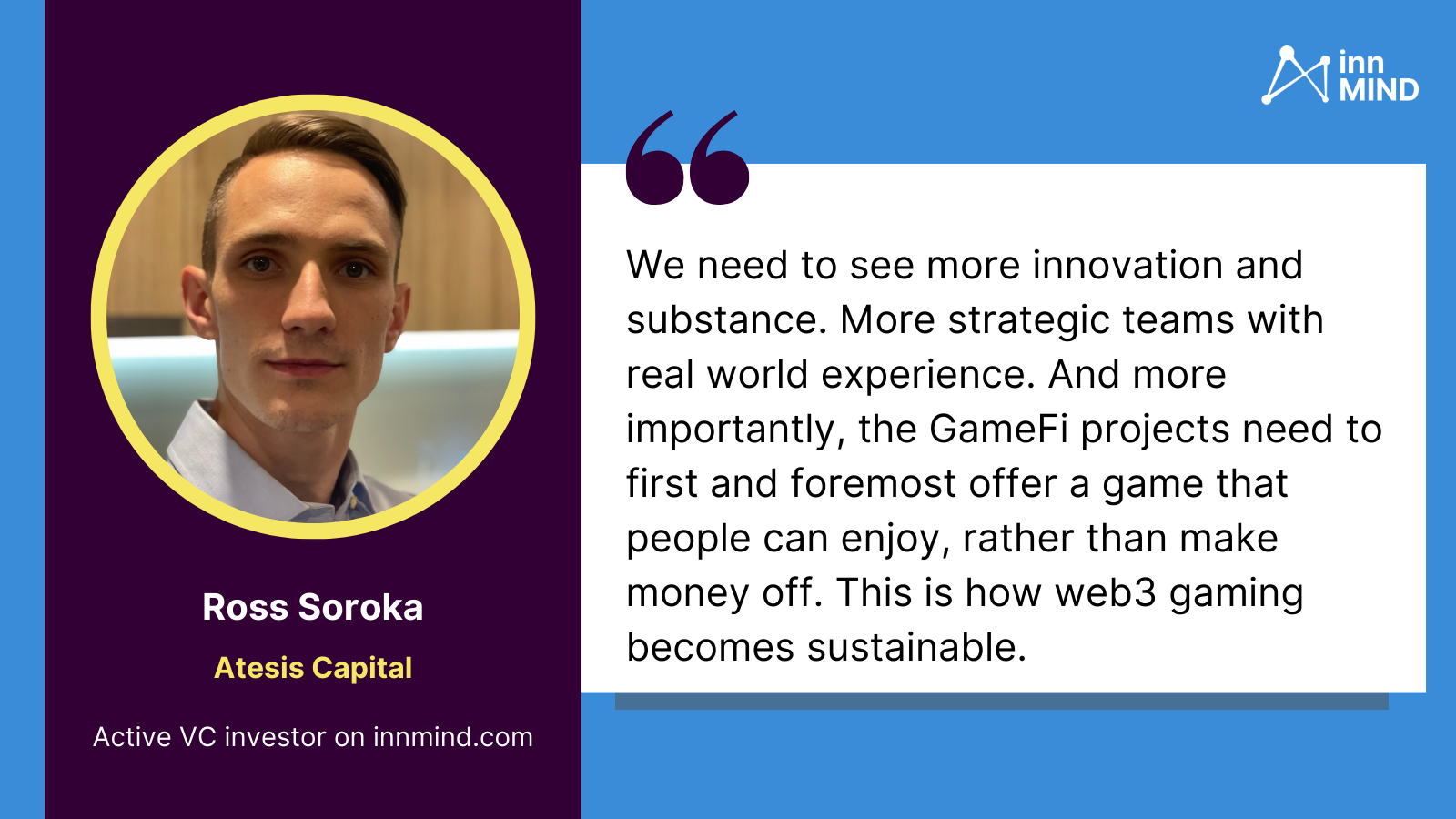 And at the end of the talk, the investors gave advice to all GameFi startups. According to VC, developers need to imagine and understand the project's target audience. Also, don't make your game look like any other game.
"Make a fun game that isn't a copy of something else. Learn who your audience is. Don't be too proud to take advice from people that know the industry well. Treat your company like an actual company and create projection models so that you can scale your game up as you bring in more users. And always make sure you have the plan to keep gameplay fresh and exciting. Create expansions, new game modes, or even new games themselves", Carmelo from Arcanum Ventures highlights.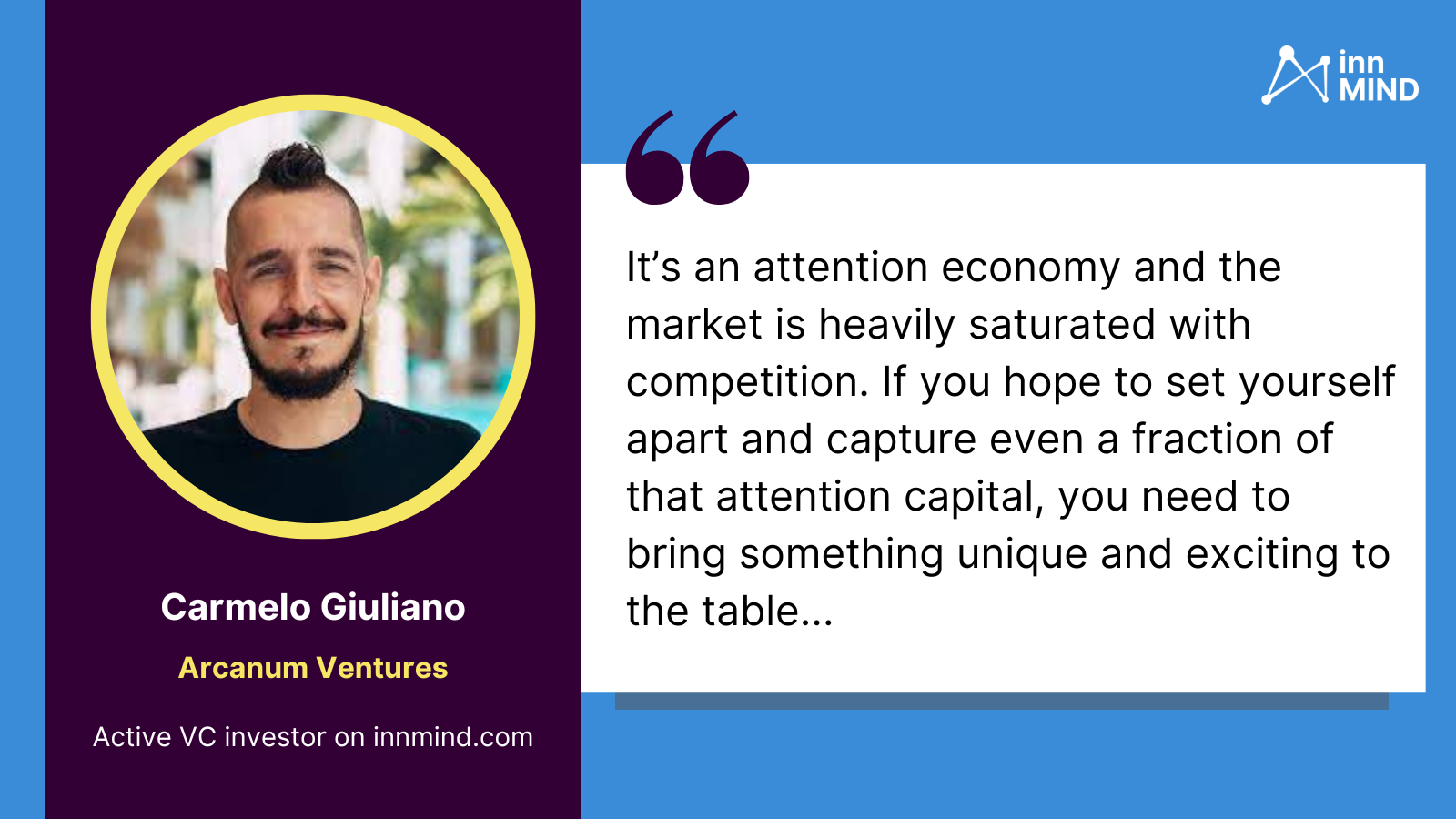 And in addition, always try to think about the future of the project and aggregate ideas on how it can be scaled.
«Ensure a strategic allocation of rounds. Don't raise too much money. Attract smart venture capitalists who can provide more value than just a cash contribution», shared Atesis Capital' tip.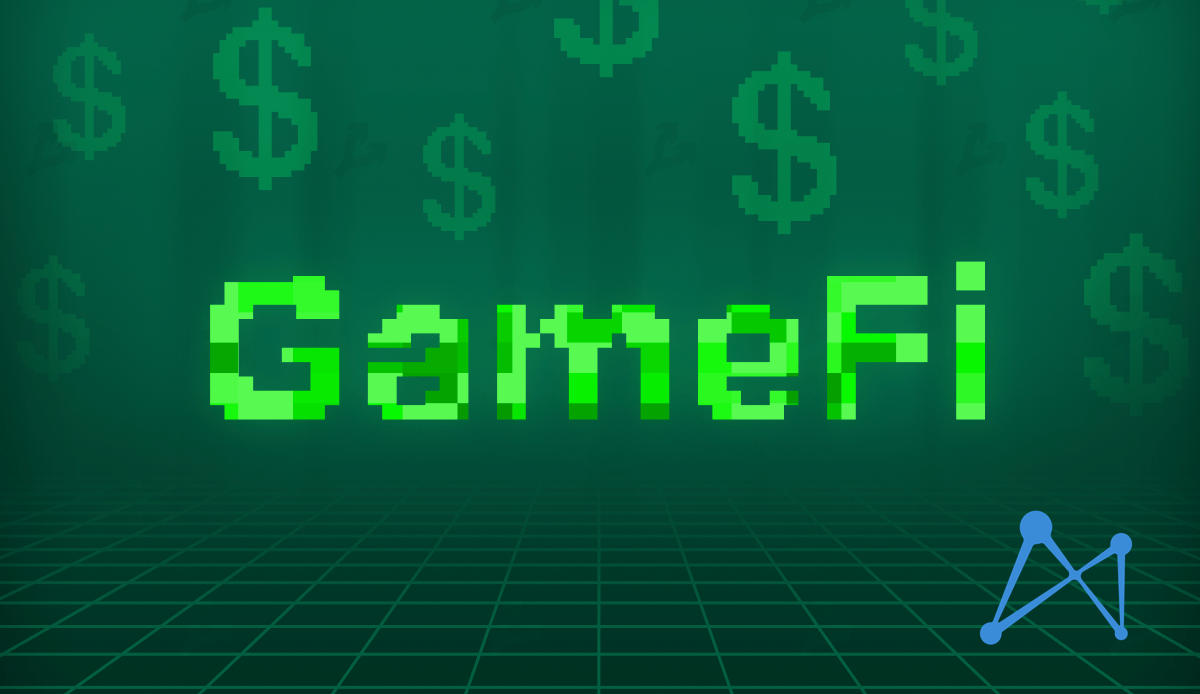 Conclusion
Despite the volatility of the cryptocurrency market in 2022, GameFi projects were able to show that they can attract an impressive audience to their side and become huge markets for virtual values. In the future, the segment will definitely experience significant economic growth. GameFi will also see new, more complex games with more advanced graphics, economics, and dynamics.
In addition, experts are waiting for new business models to come to the GameFi industry. They should help players stay longer and buy game values more often.
When the cryptocurrency market enters a more favorable phase, we should expect a new phase of growth and development of decentralized games.
Undoubtedly, crypto investors will also be interested in promising and exciting GameFi projects - after all, the gaming industry is the fastest growing sector, with games appearing every day to win large audiences.
If you want to learn more about investing in GameFi and presenting startups to investors, join InnMind's online pitching sessions. There you can learn how companies present their projects, what VC's want from crypto companies, and a lot of other useful information.
---
Read Other Posts About GameFi and Web3 Startups: