Web3 has long been a catch-all term for a vision of a better Internet that uses blockchain technology, smart contracts and strives for decentralization. So it is not surprising that the most frequently discussed technology of the future among investors and businesspeople has been the third version of the global network. Business executives, venture capitalists and governments around the world expect Web3 to impact their normal business operations as well as provide them with new opportunities. So it's no surprise that crypto and Web3 startups have already attracted more than $16 billion in investments in 43 deals this year.
The goal of Web3 is to move to a decentralized Internet and give users full ownership of their digital assets. The new version of the Internet will increase transparency and accessibility, and help people interact directly, without intermediaries.
Future Web3 Startups Ideas
The development of Web3 is undoubtedly helped by major players: a growing number of well-known companies and brands, from Starbucks to Anthony Hopkins, advertise the main products of the new Internet (cryptocurrency, decentralized applications, etc.).
The emergence of 5G and 6G networks, as well as the launch of new Web3 apps and Web3 wallets, can be called an additional incentive for the development of Web3. Analysts predict that this will be a major driver of market revenue growth from 2022 to 2030. Machine learning and artificial intelligence will power Web3, allowing computers to analyze large amounts of data and assist in the distribution of content based on specific user needs.
The field of Web3 can be considered one of the most promising areas of modern technology development at the moment. According to a study by Market Research Future in 2023 the market size of Web3 will grow to 6.187 million dollars. And according to Emergen Research, a Canadian market research and strategy consulting firm, the global Web3 market is expected to reach $81.5 billion in 2030 and grow at a compound annual growth rate of 43.7 percent.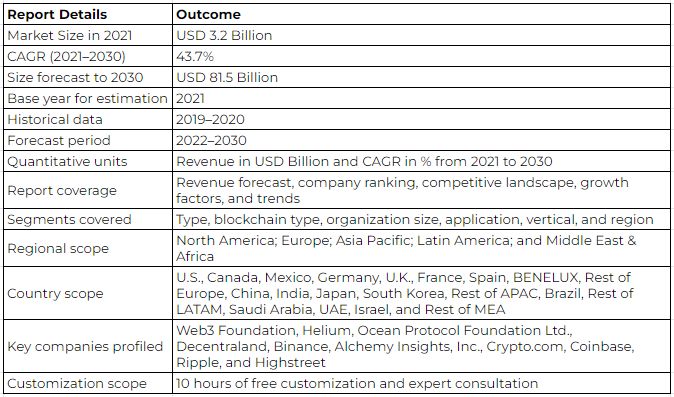 Despite the economic instability of the market this year, Web3 projects continue to attract the attention of investors. Of course, first of all, due to the fact that this field includes such advanced technologies as cryptocurrencies, blockchain, NFT and the metaverse. And secondly, because Web3 startups are a very promising long-term investment that can bring excellent profits in the future.
The Top Web3 Startups on InnMInd
If you also want to join as a venture investor in one of the promising projects, we recommend checking our Top Web3 Startups that are in active fundraising phase.
But before we move on, subscribe to Web3 Startups and VCs Newsletter and get the latest updates on pitching sessions, market trends, VC deals and opportunities for web3 entrepreneurs 👇
Weld Money is a fintech project that develops a payment card service with cryptocurrency.  The project created the Weld card cryptocurrency card, which allows paying for goods and services in cryptocurrency in offline establishments and stores, as well as online venues. The card can be added to Apple Pay or Google Wallet, and you can pay with it in any store in the usual way, attaching a smartphone equipped with an NFC chip to a POS-terminal. The startup initiative was helped by Ukrainian Unex Bank and Mastercard.
Also, Weld Money issues its native token WELD, which has been successfully listed on centralized (BitMart, Bitrue) and decentralized (PancakeSwap, Uniswap) platforms. In addition, the startup team reached numerous partnerships with leaders in the crypto-, blockchain-industry and received support from Concorde Capital, Magnus Capital, 7 O&Clock Capital and other investment companies.
DoxyChain, a Polish company that creates a blockchain-based document management infrastructure that helps companies optimize and automate workflow management processes.
In addition, DoxyChain provides its platform as a SaaS model, which allows integration with existing client systems. It allows you to optimize the entire document cycle, from e-signing, to archiving and access rights management.
DoxyChain aims to become the best large-scale infrastructure for documents by combining traditional front-ends with Web 3.0 capabilities.
It is worth noting that the startup has already raised 2.2 million euros from international investors for development in September.
ecoPros is a decentralized platform of investors, installers, and energy consumers that aims to make energy installations cleaner.
The authors of this «green» initiative, propose to use their protocol to finance clean energy projects with the help of the DeFi ecosystem. Energy system installers will be able to get good financing and users will benefit from flexible Energy-as-a-Service subscription plans.
Power DCloud is an Estonian startup that created the first next-generation infrastructure that allows deploying all parts of a complete Web3 app in a single decentralized environment without the need for centralized hosting. Thanks to this platform developers of modern software will not have to resort to services such as hosting, computing, CDN and databases.
Developer-friendly architecture of the platform does not require knowledge of specific programming languages, large time and material costs, as well as the time to bring solutions to market by simplifying the development process. As a result, full-fledged decentralized applications can be created that go far beyond the simple smart contracts that exist in current Web3 systems.
Futurent is a blockchain-based platform for renting and trading real estate, cars and yachts. The project has become one of the pioneers in the field of NFT Real asset ownership as a DeFi protocol, which provides secure and reliable transactions. In addition, the authors of the platform are going to implement a large-scale metaverse into it.
Futurent's main goal is to provide the highest passive income in the safest and most reliable way using Web3's innovative approach.
The startup is already working with various major strategic partners, such as Chainlink, to create a useful and user-friendly platform for users.
The startup Nexity Network is working to develop an ecosystem designed to solve complex product and apparel supply chains. The developers of the project, in creating the platform, have focused on solving the problems of day-to-day operations, trust between supply parties and the exchange of fragmented data.
Nexity Network's global goal is to make the economy more transparent and productive through blockchain, and to rethink how everything is designed, created, used and recycled. The startup intends to serve as a bridge for many large companies and customers to provide reliable and secure flows of products and services.
The Romanian startup COINZIX is developing its own cryptocurrency exchange designed for both novice investors and experienced traders. The platform includes many services and features, such as spot exchange, staking and fiat on/off ramps.
The startup currently operates a network of 9 ATMs located in major cities across the country. Users have made about 1,000 deposits and withdrawals through them. By the end of this year, the ATM network will expand to 15 units. The company also aims to expand its ATM network abroad, in countries such as Italy and Spain. The average amount of transactions made by Coinzix customers ranges from $700 to $1,000. Over the next three years, the company has planned investments of about $10 million, the release of its own token and an increase in the number of users.
Avem is a Swiss startup working on a new infrastructure based on the DeFi Layer 1 parachain on top of the Polkadot ecosystem. It is a global financial services platform for multi-asset investors, and allows trading and storing Utility and Security tokens.
The main goal of the startup's founders is to make the next generation of DeFi more accessible to ordinary users around the world and thus build trust through quality protocols and product transparency.
Avem's platform will give its customers a lot of advantages over other parachains, as the project is fully adapted to the banking world: the blockchain will be regulated with KYC and KYB, and will have a zero-disclosure proof-of-concept.
Paxo Finance is a project that takes decentralized lending to a new level.
The platform opens up borrowing and lending opportunities in the metalverse of finance (MetaFi), allowing borrowers to borrow up to five times their equity. These loans also allow lenders to earn interest. With Paxo Finance, users will be able to buy tokens, NFTs, game accessories, or land in the meta universe with a loan.
Paxo's interest rates are extremely competitive and among the best in the industry, allowing lenders to earn significant long-term profits by giving borrowers the best loan offers and allowing them to participate in the cryptocurrency market.
This open-source project has already raised $1 million in funding from investors such as Zebpay, Lemon Grass Fund, Avinash Shekhar & Raj Karkara of Zebpay, Rajat Gahlot of QuillHash Technologies, Mithil Thakore of TeraSurge and other business angels.
The startup SitYEA is working on an extremely useful app to help people maintain proper posture, take breaks, control fatigue, monitor emotional health and workplace ergonomics.
The SitYEA desktop application monitors the posture of those who use the computer daily at work and alerts the user in real time to adjust their body position. It also offers its clients guidelines for optimizing their workspace and statistics on postures saved throughout the day.
The app's work is done locally. The app processes data on the same computer through a system of artificial intelligence algorithms. The tool is compatible with 3D webcams to improve the accuracy of the analysis.
Conclusion
The Web3 market was born before our eyes, and we can see how quickly it is changing. Every day there are more and more interesting projects related to the technologies of the third version of the Internet. Investors who are looking several years ahead are actively investing in the development of crypto- or blockchain projects. Large companies and even the public sector are all turning their attention to Web3.
Web3 provides a fairer distribution of value, so all participants, including users, investors and funders, are interested in developing the network. Now we can observe a relatively safe and promising opportunity to enter the crypto world, because some assets can bring 200-300% profit, others — 3-5000%.
If you want to know more about Web 3 startups, promising blockchain and crypto projects, as well as investment opportunities in them, then join InnMind on social networks, Youtube or follow our news on the site.
Are you building the next web3 unicorn? Create your startup profile on InnMind and feature it in the hottest community of web3 entrepreneurs, investors and market players!
Read Other Posts About Web3 Startups: